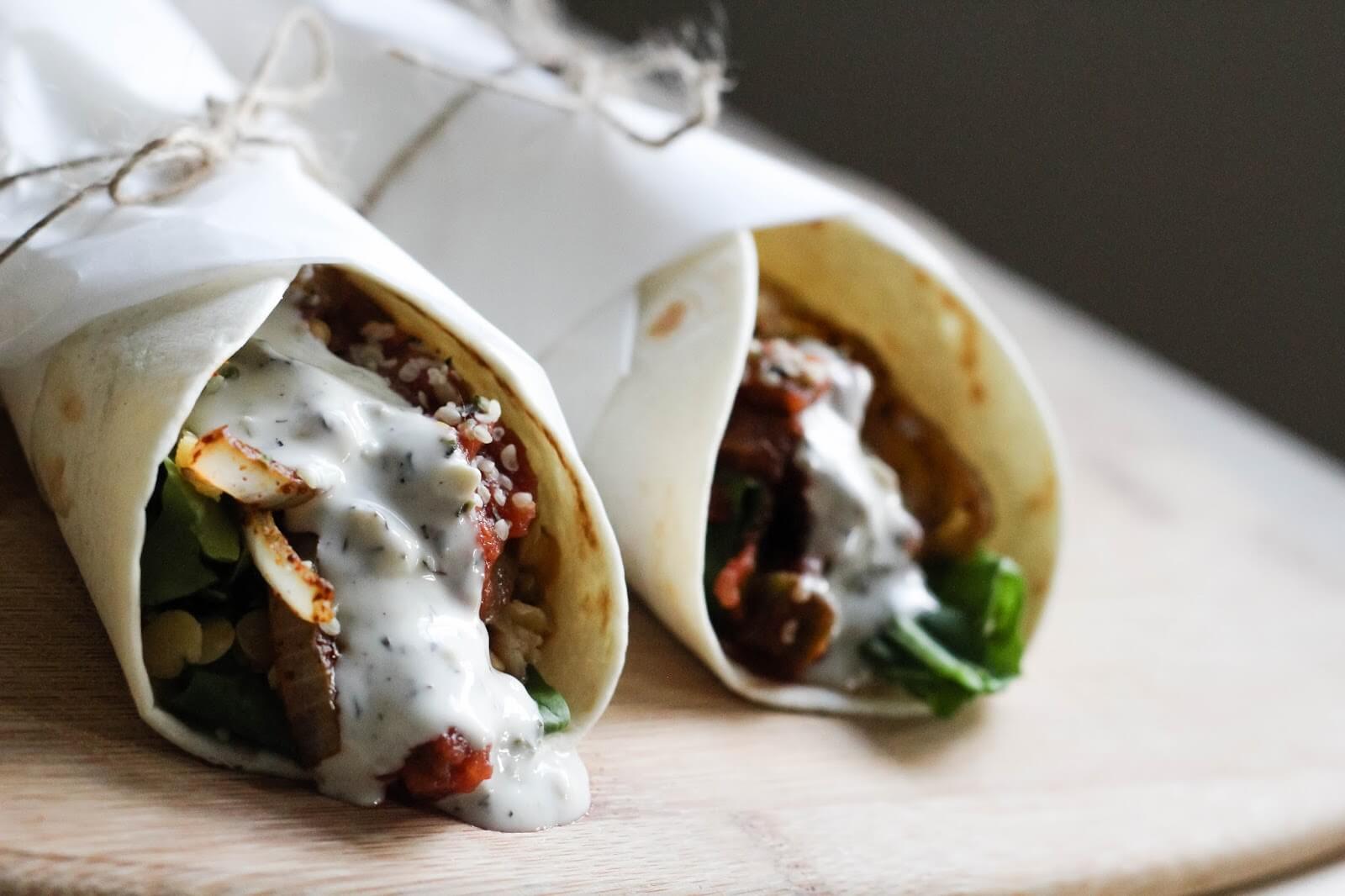 Another delicious recipe from my go-to arsenal of good eats and yes, it's completely vegan. My journey with eating a plant-based diet has definitely not been easy as slicing pie. I took a few corners in my time – craving things I wanted to avoid and such- then ultimately giving into temptation. If you're looking to improve your eating habits, definitely start off slow and replace your faves with healthier alternatives as you go along. The more you read up on and learn about, the better chance you have to find your happy place again with food that won't kill ya.
I am a HUGE lover of tacos. Any Mexican-inspired dish really so naturally, instead of wasting your money on crappy Taco Bell, give these red lentil tacos a try. What the hell are lentils you ask?  They're a type of bean or what I know as a legume. They also come in various colors – like green, brown, and yellow. Super easy to cook and has a delicious nutty/earthy flavor. There are some pretty cool benefits to them too.  They also contain more protein than most other beans and legumes.
I love using lentils in recipes like tacos, vegan sloppy joes, soups, burgers, and more. Follow my food diary on UhOhVegan for more food ideas to get your body a little lighter on the deathbed spectrum (lol) – too dramatic? Eh, sorry. Moving on.
Red lentil tacos and homemade dill sauce recipe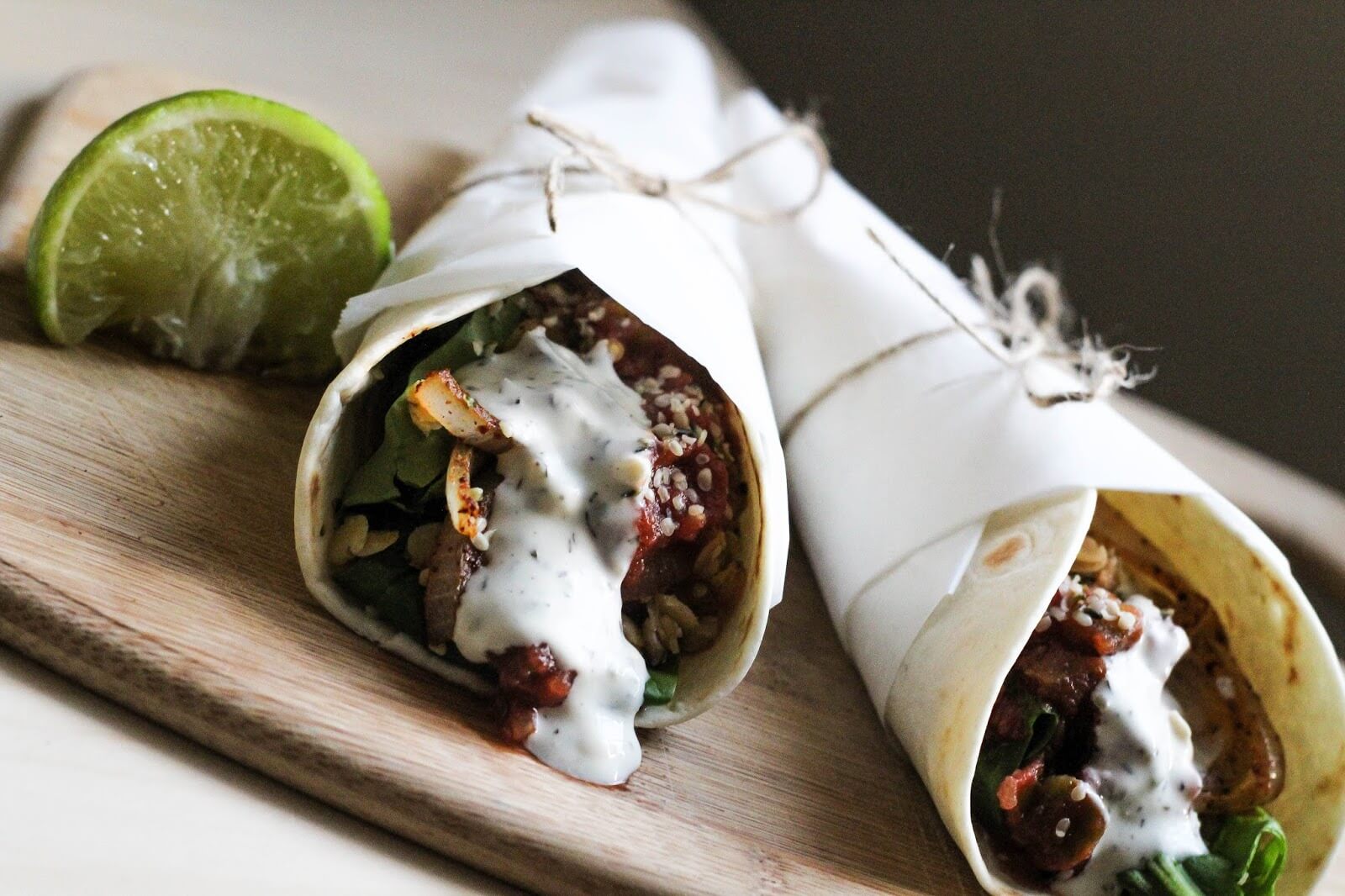 Prep Time: 15 minutes
Cook Time: 20 minutes
Total Time: 35 minutes
Ingredients
Spices
Chilli Powder, Garlic Powder, Red Pepper Flakes (optional if you want some extra spiciness)
How To Make Homemade Vegan Dill Sauce (dill is great for digestion)
You will need mayonnaise (vegan, of course), a lemon, ground black pepper, and fresh dill. I'm not the measure your stuff out type of girl, I simply use enough for what I'm making (for seconds, thirds,and fourths). Take a small bowl and add the mayo (I used 1 cup), the juice of half a lemon, some black pepper, and finely chopped dill, then mix altogether. Add a bit of water if you desire a more fluid consistency.
NOTE: There are several ways to make a vegan dill sauce – you can add avocado, ground cashews, etc. It's all preference.
Instructions
Begin by prepping your ingredients for the dressing of your tacos by taking your chopping up your onions and mushrooms. Give your lentils a nice soak in water while you prep. Grab a saucepan and add your lentils along with 2-3 cups of water. This depends on amount of lentils being cooked. Bring to a boil then turn heat down and allow it to simmer for about 15-20 minutes or until tender. Drain any excess water when done. While lentils cook, lightly sauté your onions and mushrooms in avocado oil  – add 1 tsp chilli powder and 1 tbsp garlic powder for some extra flavor if  you like.
Grab your taco wraps (here's a vegan option or simply use lettuce), add choice of lettuce (I used romaine) and some cooked lentils. Top off with your veggies, some delicious salsa, and sprinkle with hemp seeds. Enjoy!
What's a dope recipe you've tried lately?