Disclaimer: Take note that this post is not sponsored but is intended to be humorous as well as educational. Laugh a little.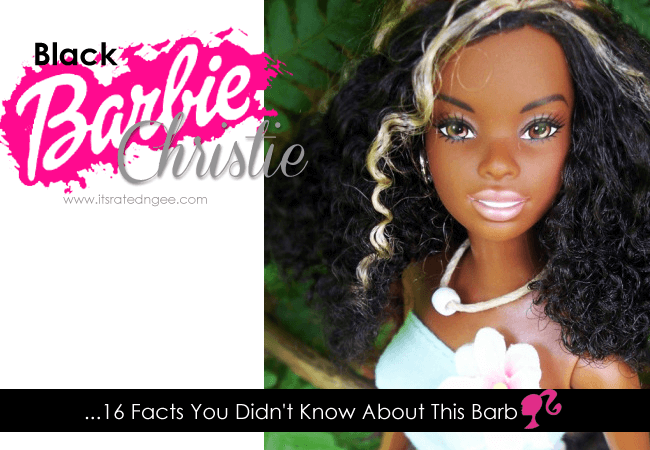 We all know about the iconic Barbara Millicent Roberts, aka "Barbie", her boo thang Ken, her one and a million occupations, huge closet of custom clothing, and that signature blonde hair. So what about her very first friend of color, Christie the black barbie? What things were you not told?
You'd be surprised…
Christie in Beauty Secrets, 1980
Became friends with Barbie in 1968-69. They "seemed" to be pretty cool around each other.
Lived in Detroit but was forced to move to Malibu to be closer to the clique near Barbie's Dream House.

Nikki O'Neill

Her favorite color is all shades of green.
Her real name was actually La'Chrys(something) Jackson until Mattel decided to "alter her image" and gave her a friendlier name being Christie O'Neill.
Barbie wasn't feeling her afro so she made Christie straighten her hair.
Christie didn't like "pretending" to be besties with Barbie but only stuck it out because they compensated homegirl pretty nicely.
She's had a few skin darkening and lightening surgeries as well as surgical face lifts since 1978 to conform her appearance to Mattel's various standards.
Christie had a history of romantic relationships but ended up with her current  beach -loving boo Steven in the 1980s.
Her younger sisters are: Nikki, Janel, and Diedre O'Neill
She left Barbie and her bougie crew in 1997 when she was forced to do an oreo campaign for Nabisco's "Oreo Barbie". Her successor, Barbie, did much better in 1994 BUT left Christie embarrassed and offended. That contract didn't sell and she was recalled.
Christie no longer claims her sister Nikki because she later became Barbie's bestie replacement in 2006 after she left the crew.
Christie seems to be the ONLY "friend" without a Wikipedia page… but her sister Nikki has one. SHADE much?!!
She left Malibu in the 90s to move back to Detroit.
Christie went back to being natural and hasn't been seen much in work with Barbie and Mattel since 2005. She currently works with other brands behind the scenes now as a mentor, motivational speaker, and activist for up and coming black barbs.

Left to Right: Grace, Trichelle, Kara

Her most popular mentees, whom she met in 2009 are: Kara, Trichelle, and Grace. They're apart of the So In Style crew.
She's an iconic legend in the black barbie community.
There you have it. A few things you may not have known. You have to give it to her though, she hasn't aged a bit over these last few decades. Feel free to do your research to add to this list.
Were you ever a fan of black barbie Christie? I'd love to hear from you in the comments below.