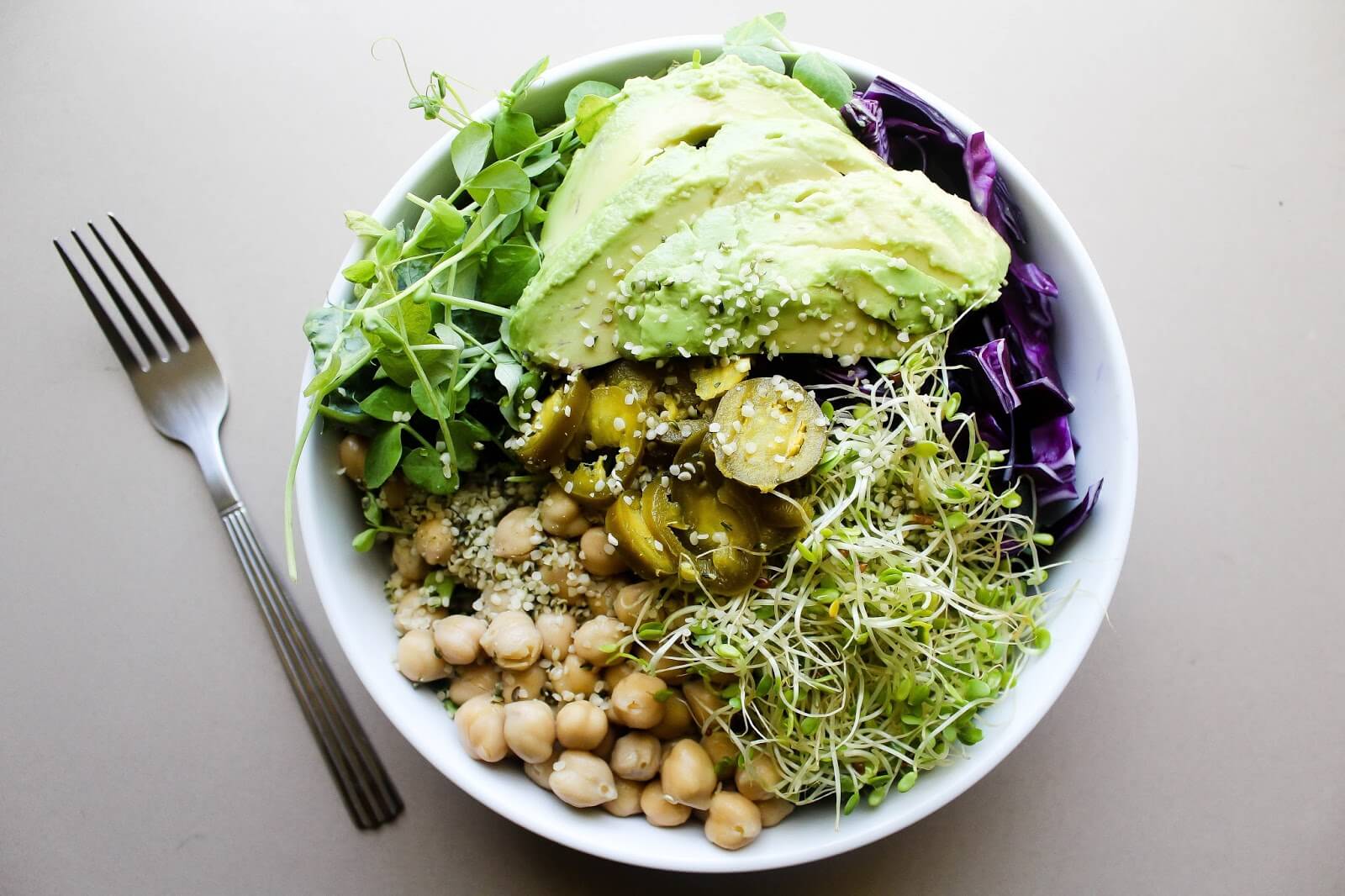 To some people eating a salad is just this boring way of trying to be healthy.  For others, it could be the thought of eating rabbit food with no flavor.  For people like me who love the power of greens, there's nothing you can't do without a little imagination, curiosity, and creativity.
I like to enjoy a delicious salad bowl quite often and this is no exception – and it includes some of my favorite ingredients.  Pea shoots, garbanzo beans, red cabbage, sprouts, and delicious avocado, of course.
Dope benefits
Pea shoots are these edible leaves of the traditional Garden pea plant. They're super versatile and bring a lot to the table when raw or cooked. The tender leaves can be used as a substitute for traditional salad greens or as a compliment to other recipes or side dishes.
Garbanzo beans or chickpeas are legumes known for having great protein, iron, and fiber content. They can be eating raw, roasted, or cooked. If you're trying out plant-based alternatives, they're great for making vegan "tuna" and used in a meatless Burger recipe.
To prep, I soak them in water overnight to allow them to expand. If I'm not near a farmers market, I purchase mines raw from here.
Sprouts are germinated seeds of legumes or grains. Lots of people love them because of their high nutritional value. They ensure blood purification and strengthen the immune system to protect against several diseases. They're also great for helping you to digest food detox, increase nutrient absorption, and if you love wheat gluten, it helps to break down gluten for easier digestion because we all know that human body can't properly digest gluten on its own.
Red cabbage, also known as purple cabbage, is a veggie that contains 10 times more vitamin than green cabbage. It's beautiful hue makes it great for eye, bone, and immune health. It also strengthens your gut and supports fighting off cancer.
Avocado one of my all-time favorite superfoods. Is best known for its benefits of heart health. Plus, my toddler and I totally LOVE eating it alone with a bit of pepper and himalayan salt. SO GOOD!
Try this delish salad at home
Garbanzo Beans (Chickpeas) – use canned if you prefer.
2 Handfuls of Pea Shoots.
1 Handful of Sprouts.
1 half of Red Cabbage.
1 Avocado
Optional Toppings:
Diced Jalepeno (for a little spice).
Hemp Seeds.
Season with pepper and a bit of Himalayan salt to taste and enjoy!