Many of you may recall the time where Rhonda Lee's name was plastered all over Google search and Facebook in the natural hair community. When she was fired for defending her natural hair via Facebook, we were all in an uproar over the stupidity of it all for her to ave lost her job by standing up for herself. If you don'r remember the details, you can read the interview shared by guest poster Ashley on my blog here over a year ago.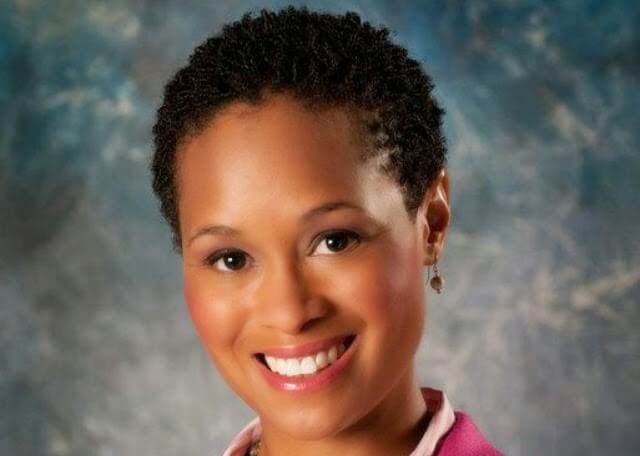 Almost two years ago Meteorologist Rhonda Lee was fired from KTBS-TV, an ABC affiliate in Shreveport, Louisiana for responding to viewer comments on Facebook about her natural crop hair style and the stations "The Three Minute Smile" contest. Since her termination, Lee has received national news from outlets like CNN, NewsOne, Essence and HuffingtonPost. As of July 2014, Lee has accepted her dream job with national weather station of Denver, Colorado, WeatherNation. About a month and a half shy of working at her new job, Lee discusses with me how she obtained her dream job, the resurfacing of becoming a news hot topic and updates she's received from her EEOC lawsuit against KTBS.
One beauty that I admire is that you never changed your hairstyle despite the odds.  What was the job hunt like for you since your termination from KTBS?
It was pretty difficult. You find out truly who your friends are. When I would call in for jobs that I saw open, I was told 'you're suing the other station,' so I couldn't get an interview. It had its moments of difficulty but I really think for the most part all things come together for the good. I got to stay home with my baby and raise him for his first year. It was a bit of a blessing in disguise, but it was not without a struggle.
It has been a year and a half since you were fired from KTBS in Shreveport, Louisiana. In our first interview last year you mentioned you had a legal team reviewing your case as well as recently filing an EEOC.  Has anything been settled? Are there any updates?
Nothing has been settled as of yet. I still have my legal team looking at it and still talking to KTBS. They're still negotiating what it is they want to do. I think what ends up happening is the other side hope that time will help change their minds. Overall for me, the situation hasn't changed. I'm still continuing to try and reach some kind of solution for everyone involved.
How would you address those who claim that you brought your initial termination from KTBS on yourself—stating that your comments may have escalated the situation and made it worse?
I would say that without someone correcting behavior, negative behavior will continue. I really do not think I brought anything on myself, being black is not an ailment, it is not a flaw, it is not something you can fix, that is who I am. To say why I didn't change my hair—I must got it like that. It was never my choice to be let go from my job. It was never a situation of "change your hair, change your attitude or we'll let you go." It was straight up "sorry, you're gone without, any discussion other than that, you're gone."
You started your first day on July 28th with WeatherNation in Denver, Colorado. Congratulations! Take me back to the time when you received the call.
It really kind of fell in my lap. I had a fantastic job in Shreveport, it was not in television; it was behind the scenes. It was more on the public relations side that I have experience in, working for a health center in Shreveport. It was a weird day where I got two phone calls back to back. One was for a station in Illinois for a Chief Meteorologist job and the other was from WeatherNation. My agent was the one who called me and told me 'I don't know what you're doing, but all of a sudden there's a lot of interest in you.' The very next day I got a call from another TV station wanting to know if I was available. It was this serendipitous moment, I don't know if serendipity is the word, more so than just luck. All of a sudden three jobs came to me and they were all interested. I put in phone interviews with all three of them and ended up landing the job in Denver. So when I say it was something that fell in my lap – it really did. I pretty much decided maybe I don't need to do the weather any more.  I'm happy with my job; it was a 9-5p, I had insurance, I got my holidays off and everything was going well. But, I guess the whole God having other plans is true.
Since starting your new job, have you gotten any reactions or any form of communication from your former coworkers at KTBS?
No I haven't and I haven't necessarily been looking for it either. I know everyone is always so busy and everyone has their own lives so I don't fault them for not reaching out. Let me be clear, I've had a few people tell me congratulations in passing; it wasn't like a big organized event.  I did get an opportunity to say goodbye to a lot of the other black news people in Shreveport in mass. It was a special thing to be able to move on. Knowing that I had their full support meant everything to me.
It's been about a month since your first day at WeatherNation. Working in broadcasting or being a public figure in general, comes with the heat of a variety of opinions and comments about your appearance. Has there been any viewer comments regarding your hair or outward appearance similar to the one at KTBS?
I don't know. It appears that for the most part a lot of the negative comments are removed from public view, so that is a big change. They're pretty much sticking to the mantra that if it's not positive there is no need for everybody to see it. It's nice to have that type of positivity flowing through the station as it does.
You mentioned in our first interview that there was no policy with KTBS. Now, working for a bigger company with a nationwide viewership, has there been any sort of online or social media policy upon working at WeatherNation?
That's a good question and honestly I don't know. We have someone who is dedicated to doing just the website so I typically don't have to worry about it that much.
When interviewing or upon starting your first day, have any of the WeatherNation employees mentioned the KTBS frenzy?
Just a few of my coworkers. I remembered somebody mentioning it, it wasn't malicious or anything, more so a passing thought.
Did management bring it up in the interviewing process?
Yes, but it wasn't dwelled on at all.
Though you have your dream job, if KTBS realized they made an error and offered you your job back, what would you say? How would you react? It might be a long shot but—-would you take it?
Oh gosh. I would say if they offered it, it would be a miracle! For me to pack up and move everything again I don't think that would be in the cards for me. But it would be best for everyone to part as amicably as possible.
But an apology would be nice if they realized they made a mistake?
An apology is always nice. If they realized the error of their ways that would be nice but we will see what the future holds on that.
You had your first child in September 2013. A boy named Louis. How have you been adjusting to motherhood and being a working mom? What advice would you offer to other working moms?
Oh man, you're probably the first person to ask me that advice question. How I'm adjusting – it's tiring. He's almost a year old and he doesn't wake up in the middle of the night like he used to but, sometimes he does. I would love to get some sleep, if possible. I'm getting to a point where my stretches of sleep are a little longer than what they have been, but it's not 100% ideal. He's such a wonderful baby, so smart, so handsome and so funny to mommy that I don't mind so much the long hours. I look back on the beauty of a single mom because you've got to be superwoman in order to do this and my husband and I only have one. Although I'm not alone as a single mom, there are times I'm alone with the baby and I have to stop and think how someone can do this especially with multiple kids? How do you mentally handle the fact that you need to go somewhere but it's such a hassle to take the baby or the needs that you have as a person? Like, going to the bathroom alone but having to leave the baby or leave the door open. Those little things you take for granted. I don't know if I have any good advice…but you've got to take care of your own sanity or you will be not be good for the child. I know so many times it's easier said than done, but it is a must to take care of you first. Do not be afraid to ask for assistance. There are going to be times when you will need three hours alone, if for nothing else but to take a nap. If there is somebody you feel is dependable, use them. You'd be surprised how many people are more willing to help than you think.
How has the transition been for you and your family coming from Louisiana and now living in Colorado?
It was certainly stressful. But, despite the stress it was remarkably smooth considering the amount of time I had to get here. I started about a month ago, but my process started about three weeks between when I started and when I left Louisiana. I was just telling someone last week, I haven't quit my job for a month but I had already started working for like two weeks already. The time I got the job, finding somewhere to live and then to move, it wasn't even a month. It was extremely stressful, things are starting to somewhat settle for me. It's funny because now that things are slowing down, it's a little more difficult because I got so used to some crazy routine on a regular basis. Now I'm trying to adjust to the job more since I have more mental bandwidth to make that kind of stuff happen. That adjustment has been a little more difficult from what I thought it would be. It's not impossible, I just need to get my feet underneath me and give myself some time to breathe.
Looking back at the turn of events in your life from the past two years—from the online comments, the termination, public scrutiny, unemployment, having your son, to accepting your dream job and any other events in your life—have you changed? What lessons have you learned?
When you said that list, I just thought holy shh…, I did all of that. Looking back I have to think that it kind of is a miracle that I'm still standing. It kind of put tears in my eyes. I've done so much, and I couldn't have done it alone. Like I said before, if there's any lesson, it's knowing who your true friends are and knowing who to lean on and remain constantly grateful to those people. Without those core people there is no you. I'm not sure if there is a lesson. So often I'm still learning and I need to be patient with myself. I probably could stand to be more patient with the people around me. With that, I have learned a lot of times it is much better to be quiet than to say everything that comes to your mind [laughs]. That has been a tough lesson for me to learn. It has been an unfortunate-fortunate thing for me because I've always been the martyr; the girl who sticks up for everybody, speaking on behalf of people who can't speak for themselves. There comes a point when you need to hand the reigns over to someone else, you can be the martyr; don't stop fighting but you got to teach someone else how to botch. Otherwise you will get burned down and tired and it'll seem like all this fighting is for nothing but this world needs fighters. The main fighters are worn out and haven't taught their craft to anybody else, no good will ever become of that—the future stops. It's kind of therapeutic doing these interviews because I've realized there is so much more to do but I can't do it alone.
How is working for WeatherNation, a nonstop weather source different from working as a meteorologist at a local TV news station?
I think there is a lot more skill involved, in that you have the luxury of focusing on one area every day. As in national, you have to focus on five or six areas and sometimes more if there's a major weather event coming. It requires more time management than anything. Since it's such a new station, I think there are a lot of challenges that we face and a lot of that has to be overcome, and it is. I see my colleague's everyday striving to make that end product so much better. It's been an interesting ride for me because the things that I've forgotten since being out of the news business came flooding back.
How did it feel being back in front of the camera? Was there a sense of nervousness or anticipation?
Not so much nervousness, but a lot of pressure. I'll tell you, this whole KTBS thing and some stuff that happened to me at other stations, it wears on me. It does shake my confidence; it makes me rethink my ability. Sometimes you get this sense of inadequacy. I'm just as human as anybody else. I always thought what if I make this mistake again and so many other what ifs. I feel like if this wasn't to work out… I have no indication that it wouldn't… but I would feel like I let so many people down. It wasn't so much nervousness but anxiety. There's just so much weight on my shoulders that till this day I still find it to be a challenge.