Hello Beauties!!!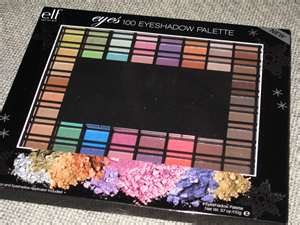 I have been using many products from E.L.F (Eyes Lips Face) lately, including this palette. So, I decided, why not share my thoughts, eh? For starters, I got it for $10. For 100 EYESHADOW COLORS!!! Awesome deal. It's regular $20 though. Thanks to a friend of mines, I fell in love with their prices. I'm all for inexpensive beauty.
There were a few things that I was looking for when I received it in the mail. Pigmentation, texture, and application. When I looked at the colors before opening the actual packaging, the colors appeared to be very vibrant. Unfortunately, my swatch test proved otherwise. Many of the colors were not very pigmented in color. In this instance, each time I had applied the colors, I would have to use a primer. The primer really helped the colors show up as I had wanted. Below are a few swatches I took with a few colors without primers:

Notice how they don't really show as great? My swatch test with use of a primer made me quite happy. It made a huge difference in the colors' appearance.

They definitely apply fairly well. I didn't experience any indentation in my colors after hours of wear. With or without the primer. The colors do somewhat seem to fade after a few hours though, so you might need to reapply eventually. Oh, and the shadows feel great. Very smooth, not creamy or chalky.