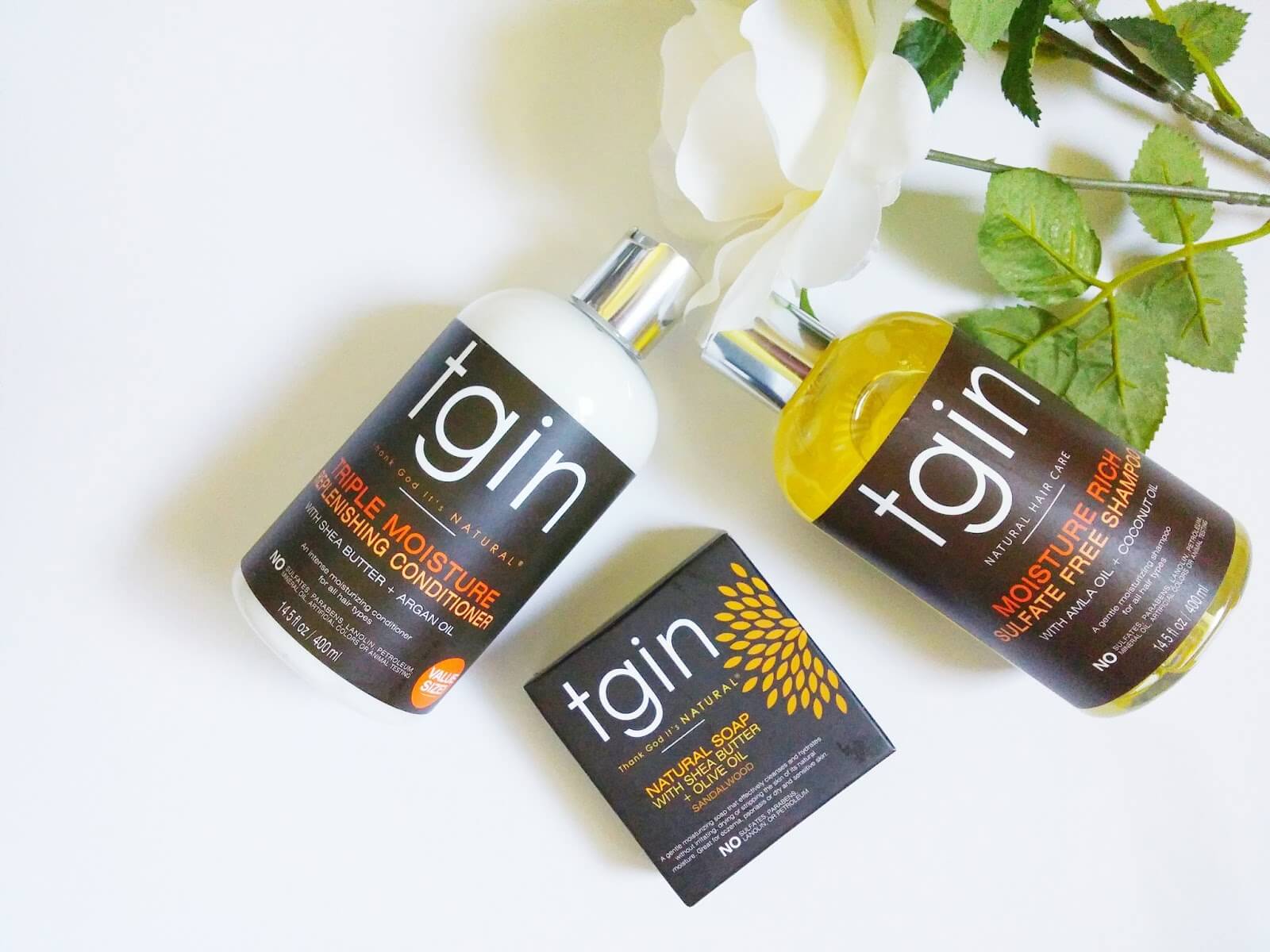 A couple of months ago I took the initiative to once more lead by example and make it my duty to support some Black-owned businesses. If you're familiar with my blog or online reputation then you know I am all for putting money back into our community.
I stumbled upon Thank God I'm Natural or TGIN natural haircare products. I instantly got excited so of course I made a purchase. I was able to purchase their products with a discount so I was winning! I wanted to try out a new shampoo and conditioner duo as well as a soap.
My hair "type" in case you need to compare – 4c with looser curl pattern in front, tighter coils in back. When wet, water tends to take a minute to actually penetrate and make it's way through soaking my hair so the porosity of my hair is low porosity. If you aren't sure of your hair porosity, I blogged about how you can find out here.
Moisture Rich Sulfate Free Shampoo
It's purpose is to help retain moisture without stripping your hair so the aloe and Pro Vitamin B5 that's in it is very helpful. I noticed that my hair didn't feel stripped while using it.
The shampoo didn't leave any residue afterwards or make my hair feel stressed like I've experienced with some shampoos.
Triple Moisture Replenishng Conditioner
It's made with shea butter and sweet almond oil to aid in hydrating, smoothing, and repairing your hair. I love a good conditioner so when I used it on my hair I separated my hair into four parts to evenly distribute the conditioner to begin detangling.
It was a breeze detangling my hair with this stuff and I have a lot of hair! It smells good too. Definitely left my hair feeling soft and fluffy. If you're looking for a new cleansing duo, give this a try. I would recommend buying the duo to save money.
I also purchased one of their many natural soaps. I chose the Sandalwood scent which I LOVE the smell of! I haven't used the bar yet but I do plan to do so soon. The reviews definitely helped in my decision to give it a try.
You can also find TGIN products at your local target!
Have you ever tried tgin? What products are keeping your hair clean and soft?