I must be honest, having natural hair definitely takes work. It's like caring for a plant. You MUST keep your hair moisturized, clean, and fertilized (oiled). I've been through my trial and error phase with finding the right products for my hair type. I am a 4b/4c (Afro Textured). Many girls with my textured hair may find that at the beginning, it's hard to define your curls. I did. I tried a few things. Of course, like many naturals, I've tried defining my curls with Eco Olive Oil Styling Gel. It was okay until I noticed that it dried out my hair and left it feeling crunchy. Not cool at all. I don't use it so much anymore if at all. Since then, I've upgraded, lol.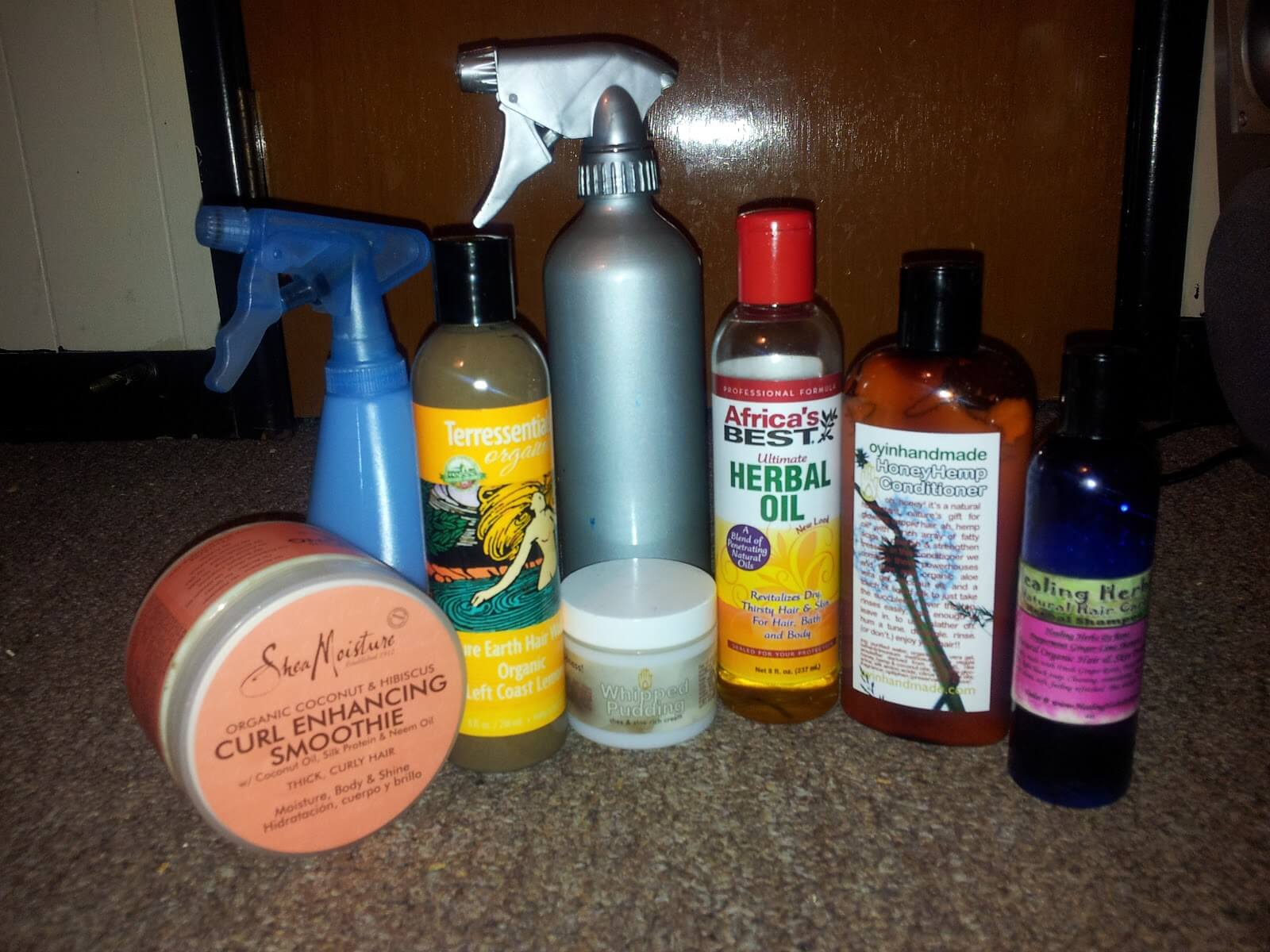 Products in order from left to right ->
Shea Moisture Curl Enhancing Smoothie.
Water/ Conditioner Mix (Short Spray Bottle).
Terressentials Left Coast Lemon Hair Mud.
Apple Cider Vinegar Mix (Tall Spray Bottle).
Oyin Handmade Whipped Pudding.
Africa's Best Herbal Oil.
Oyin Handmade Honey Hemp Conditioner.
Healing Herbs by Rene Peppermint Ginger-Lime Shampoo.
Above are the products I have been using faithfully for a few months now. I love them all simply because they all do something that just WORKS for my hair. Awesome! I own a few other products from some of the same brands.
My hair regimen
I begin my regimen weekly by giving my hair an ACV rinse. The apple cider vinegar is great for stripping my hair of debris and helping to detangle my hair strands before shampooing. It also gets deep onto my scalp, lifting any dirt that shampoo alone can't remove. I take the spray bottle and literally drench my hair in the ACV. I make sure to spray all over and separate my hair in order to get my scalp. (NOTE: The ACV has a strong scent so I always mix it with half water to make it less deadly to my nose.) After spraying the rinse throughout my my hair, I cover my head with a plastic shower cap and allow the rinse to sit for about 15-20 minutes. Then, I rinse it out.
I use to shampoo and DC twice a week but lately, it hasn't been necessary. I shampoo my nappy tresses once a week after my ACV, using either my Healing Herbs Shampoo or my Terraessentials Mud. Depending on how my hair feels and paying attention to what it needs, that's how I decide. Terressentials is more like a clarifier. You know, like a mud bath for your hair. It leaves my hair feeling super clean and light. The Healing Herbs shampoo is filled with herbal plant extracts and things made from the owners' own backyard. Amazing product and it leaves my hair feeling all clean and minty fresh. I apply conditioner after my shampoo. I use Oyin Handmade's Honey Hemp or my alternative, the Healing Herbs Tropical Hemp Conditioner.
I DC (deep condition) once every other week. For this process, I stick to step one and skip step two. I condition my hair using Oyin Handmade's Honey Hemp Conditioner. The consistency of the product is thick but creamy. I separate my hair into subsections, comb from the ends up, and apply the product. I finger comb the product throughout my sections once applied. Once I finish, I cover my hair with a plastic cap and allow it to penetrate for 30-45 minutes. It varies for me, depending on my mood. Sometimes, I will sit under the dryer and allow the heat to penetrate for 20 minutes, tops.
My regimen with my deep conditioning never really stays the same, product wise. Oyin is my go-to product for sure but I also tend to use the products below. My go-to Oyin alternative is the Organic Root Stimulator Replenishing Pak. The others, I use VERY infrequently. More so because they contain alcohol (drying agent) and maybe one or two other things that I do not like on my hair so much.

(Left to Right): 1. Garnier Fructis & Sleek Shine Leave-In. 2. Urban Therapy Twited Sista Curl Activator. 3. Organics Hair Mayonnaise. 4. Soft Sheen Carson Care Free Curl: Curl Activator. 5. Organics Olive Oil Replenishing Pak.

After my DC, I rinse and I always allow my hair to air dry. I have not blow dried my hair in months! After dry time, I style my hair. I LOVE doing twist outs and bantu knot outs. It has been my signature look for the past couple of months. For styling, I use Oyin Handmade's Whipped Pudding. I'm low on that product so until I order more, my alternative product has been the Shea Moisture Curl Enhancing Smoothie. The whipped pudding is awesome product because it gives my hair an awesome and smooth surface as well as bounce.

I've used the Shea Moisture twice and I love it just as much! with my hair, I part in sections, comb through from the ends up, then I take either one of the products along with two drops Africa's Best Herbal Oil and apply it to the section of my hair. You should know that to seal, use your favorite natural oil or oils to retain moisture. The herbal oil is my go-to but sometimes I'll opt out for jojoba or coconut oil. Once products are applied, I braid/ plat my sections. I usually have a total of 6 to 12 braids when I'm done. It varies as well as the sizes, depending on the twist out look I'm going for.

When I'm all done, I spray my hair with my water/ conditioner mix in my short, blue spray bottle. My alternatives are Oyin Handmade's Juices and Berries and Oyin Handmade's Greg Juice. I then, apply my satin bonnet and leave it to manifest it's twist out beauty.
*NOTE: If I'm in a protective style, which usually consists of extensions of hair to some degree, I keep my scalp moisturized with my oils, and sprays. I shampoo with my Peppermint Ginger-Lime only because it has a water based consistency and isn't thick and creamy like most shampoos. All other products, I do NOT use on my protective styles.
Hooray for great products!!!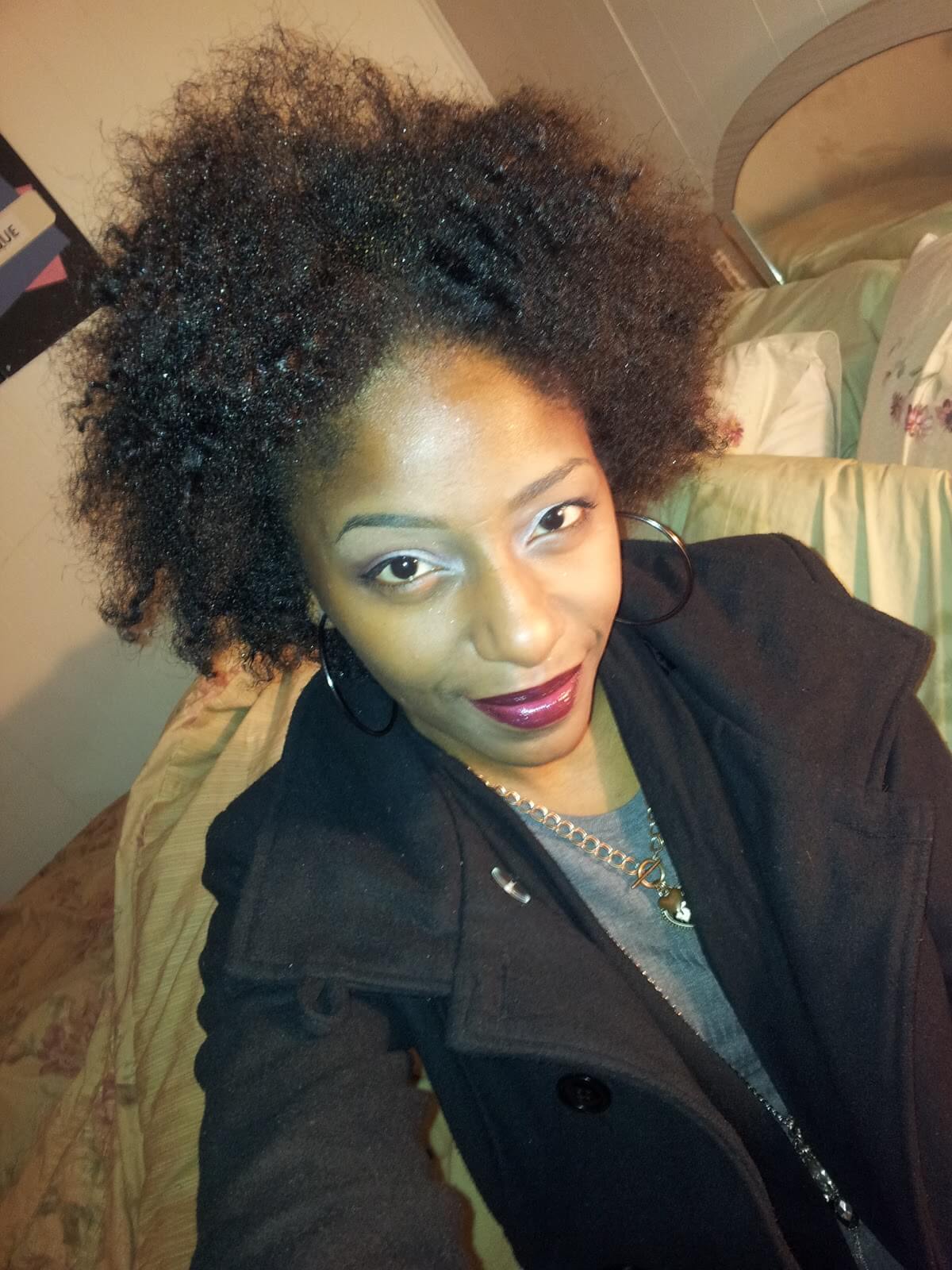 This photo completely sucks but my hair looks great! lol. (Day 3 of an old twist out.)
Check out these amazing products and more!!
***All other products can be found at your local beauty supplies, Walmart, CVS, Target, etc.***