Today I was in serious need of a fill-in. Since I had to go work at the salon today, I decided to work on my nails while I waited on clients. I broke my "acrylic fast" three weeks ago because I ended up breaking two of my natural nails. They looked so uneven that I just decided to give myself an overlay. I waved off the nail crack for a few months prior due to weakened nails and began using the CND Shellac gel polish system. I love it. Just for the sake of having nice-looking nails, I added extensions. I wanted something wild, fun, and super glittery this time around. Check out the routine I use on my clients as well as myself: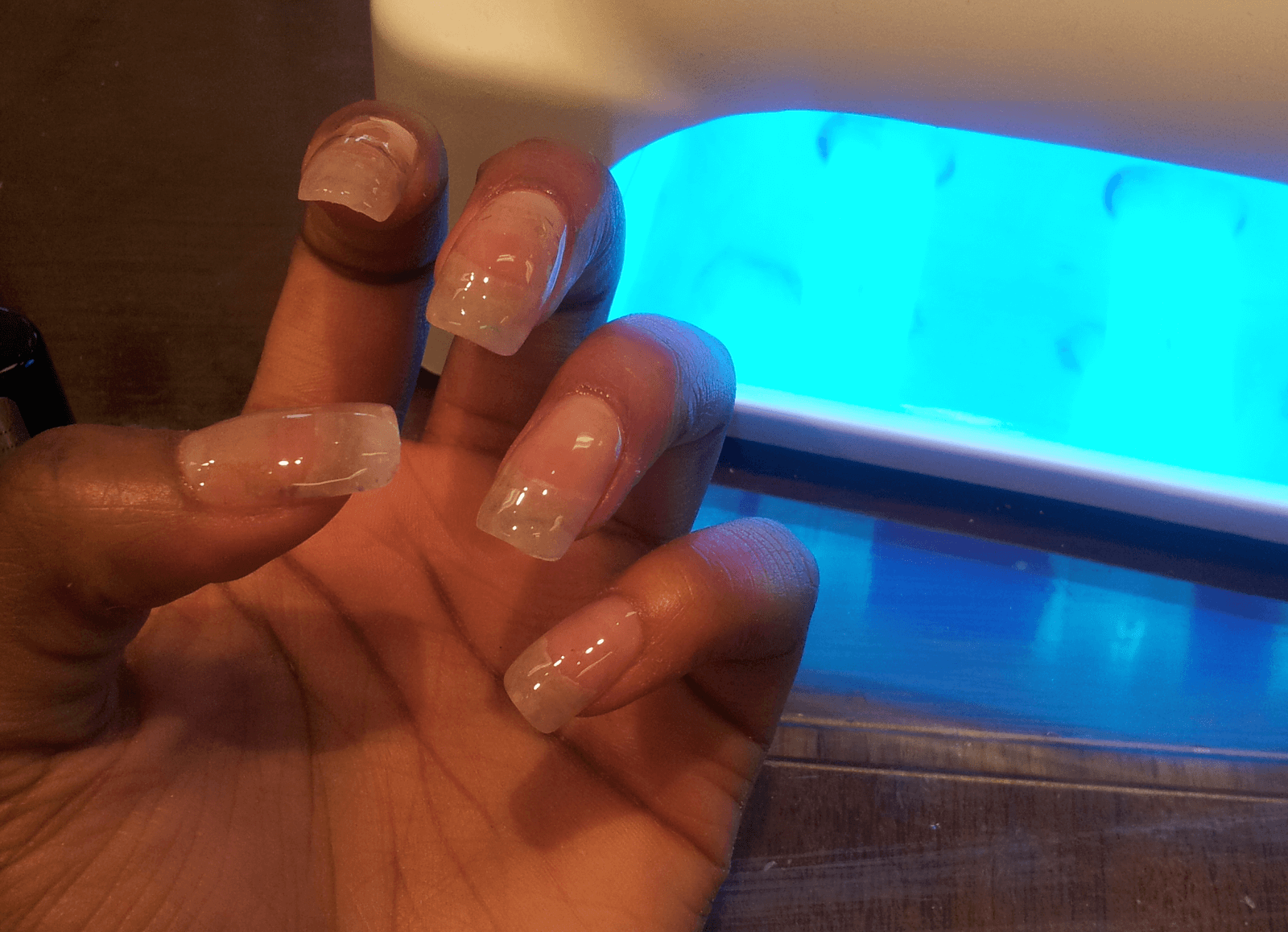 Remove any polish you may have layered onto your nails with acetone.
Take a cuticle nipper and remove any loose or hanging cuticles, carefully. Do NOT pull the roots. If you do so, you will experience inflammation and be at risk of possible nail infection.
Upon removal, begin to file or drill over the nail, starting between the new growth and acrylic layer.
Once you have completed that step, set up to fill. Depending on the acrylic that was previously laid, you may need to use a natural or clear powder. In my case, I used natural. Be sure to apply a primer before you fill.
Begin to lay your acrylic, filling in where you have retained growth. Do not lay acrylic onto your cuticles. This will cause suffocation of the cuticle which will cause lifting and you will need another fill sooner than you should. Not to mention that it doesn't look so clean.
This is also the perfect time to make any repairs or sculpts if it's needed.
Allow the acrylic to harden (dry).
Take a 180 grit file and begin to shape the nails. File both sides of each nail, the free edges, and over the entire nail bed. As you can see above, I am definitely a squoval girl. There are various shapes you can define. Square, Oval, Squoval, Stiletto, etc.
You can now begin the polish process.
In the picture above, I already applied a thin layer of my CND base coat. It cured for ten seconds and was ready to be showered in an array of color.
The fun part of being a nail technician is allowing myself to play around on my creative playground. I enjoy getting clients that have a passion for vibrant, bright, and loud nail art. Whenever I do my nails, a popping color will forever be seen somewhere on my hands. Color makes me smile! This probably explains why I tend to purchase a lot more neon-ish polishes. Of course, I have an assortment of polishes, acrylic, and decals at home. I have to be versatile for every type of woman.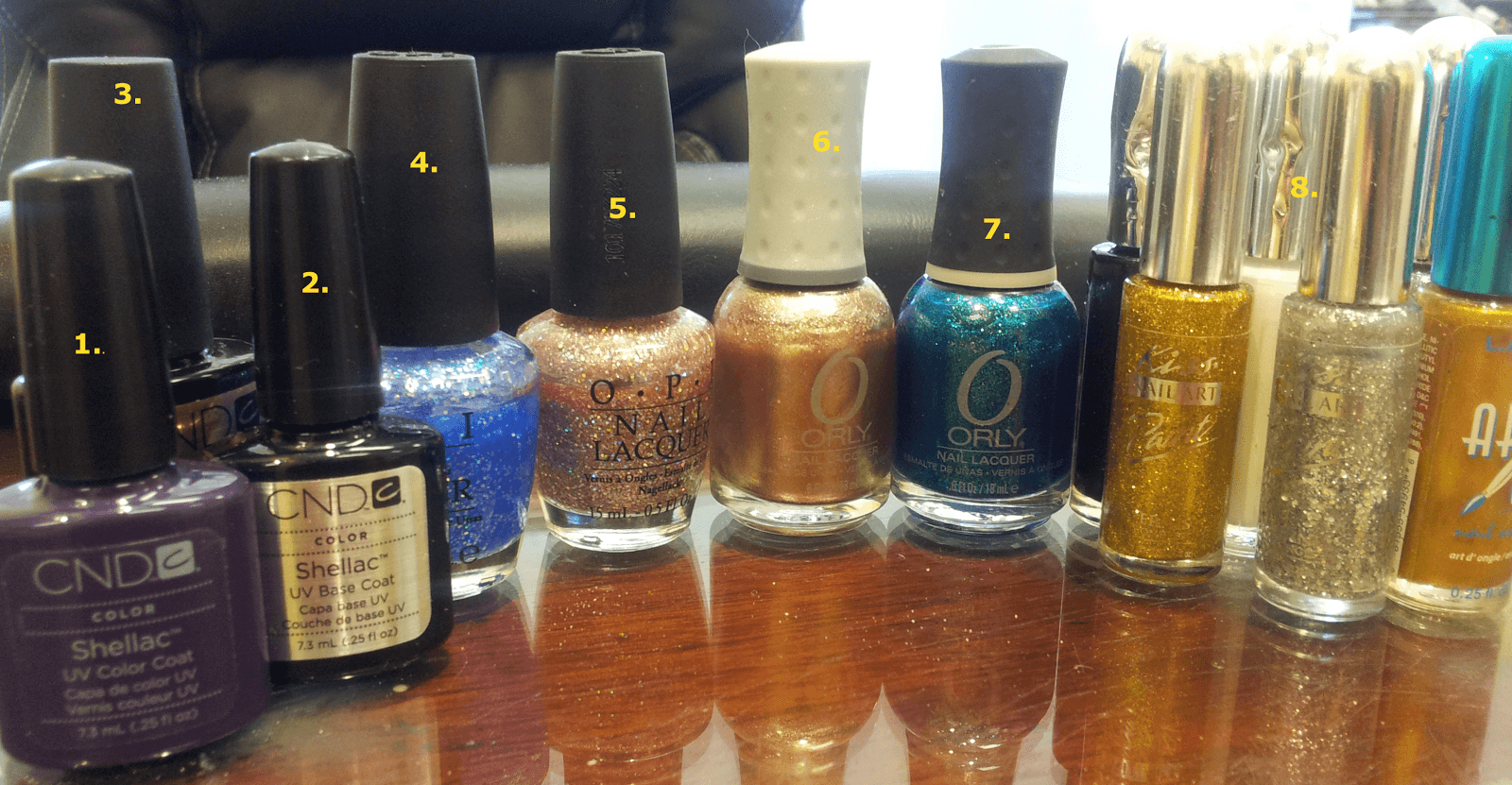 Colors Used
After I cured my base coat, I took the "Rock Royalty" color and freestyled a few tips on my nails. The designs were switched around on the opposite hand. Each hand consists of two nails, fully painted and the others are randomly painted.
Applying two coats to each hand, curing for two minutes in between each set. Total time of 4 minutes.
I started off my designing a cupcake on both middle fingers using the black, white, and golden nail paints. I placed red rhinestones at the very tip of the frosting, to result in the resemblance of a cherries.
I then took the Orly and OPI colors and dapped polish, sparingly, over each nail, minus the middle fingers. I used an order of repetition by using the Orly's first, then OPI's.
Once I completed that, I took the nail paints and randomly placed abstract over the nails. I also stuck to an order of gold glitter, loose silver, and silver glitter.
My final top additions were adding three silver rhinestones to the nails opposite the pointer fingers but between the pinky and middle fingers.
I cured each hand for about one minute then applied my CND top coat. I cured for two minutes, took my alcohol, and wiped off the sticky top coat residue. Yay! No waiting for my nails to dry afterwards.
Here's the finished product. What do you think?
The glitter shows up sooooo much more sparkly in person, lol. Photos do no justice. But it's still cute!!!!