I'd recently been in a bit of a storage dilemma. I really wanted a diy nail polish display I could hang on the wall so I could display some of my favorite nail polishes but nail polish displays are hard to find and they are SUPER expensive nowadays! Being a very improvisational person, I decided to create my very own diy nail polish display.
Read on for more on how to accomplish this awesome-looking nail polish at home.
DIY Nail Polish Wall Display
To avoid spending more than you need to just to store your favorite nail colors, get creative and whip out your arts & crafts tools. Watch how you can create your very own polish display for under $12!
What you need
3 foam boards;
Box Cutter;
Ruler;
Glue Gun & Glue sticks;
Decorative Duct Tape (optional);
The rack cost me under $12 dollars to make! 🙂
Basics
1st foam board: Draw a horizontal line every 5 inches, this is your back board.
2nd foam board: Cut (7) TWO inch strips horizontally (these will be your shelves). With the other half of the same board, cut (7) ONE inch strips horizontal (these will prevent your polish from sliding off the shelves).
3rd foam board: Cut (2) TWO 1/2 inch strips (these will be for the sides of your rack).
Placing Your Cutouts
Take the 2 inch strips and glue them to the lines we drew on the first foam board. Don't forget to glue them to the top and bottom.
Take your 2 1/2 inch strips and glue them to the side of your rack.
Take your 1 inch strips and glue them to your shelves to keep your polish from sliding out!
Secure your board to a wall and fill it with all of your polish goodies! 😀
My DIY Nail Polish Wall Display
The Finished Product!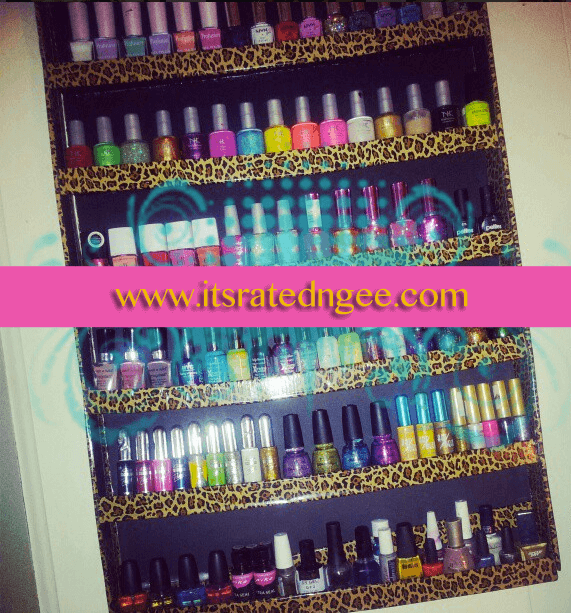 Be sure to social share with your friends and follow me on Pinterest. Leave your comments if you like… 🙂