So back in September… yea, I know, I'm super late posting this. However, back in September I was offered the opportunity to take a last minute trip to Atlanta for a few days to experience Fro'Fashion Week! I'm glad I went! It was great meeting with so many of my fellow natural-haired bloggers!
I also took this time to getaway and just have some fun in the city! Atlanta is definitely my second home. If you missed the September Fro Fashion Week event, don't fret… it's back in Atlanta February 25th-March 3rd!!
WARNING! This post is photo heavy with fun!
Fro Fashion Week 2012- Chilling In The City
Lucky me! I paid $40 for the VIP pass I was given from a Facebook friend. Before she approached me, I never heard too much of Fro Fashion Week…. where was I living? Under a rock? Well… getting back to the subject now.
Once I made it to Atlanta and got to the hotel in Dunwoody, I just crashed! Staying awake the ENTIRE night before needing to be up by 7AM was no the move. I later went out and about in the city and took photos…
My favorite place to be is Perimeter City. It reminds me of a mini-version of Times Square, NY. Nothing but tall buildings and beautiful art everywhere.
There was an event at Fro Fashion Week that I missed that day. I believe it was the bloggers brunch. GRRRR! Afrobella was the featured guest speaker.
Fro Fashion Week 2012 – The Fun Begins…
So after chilling for the day, the next morning I went to the Fro Fashion Week sponsor suites they had set in the Melia Hotel. If you're not familiar with the hotel, it's right across the intersection from North Avenue MARTA station if you take the train.
The Hotel is beautiful! They were having the Fro Fashion Week suites upstairs. Of course, once I got there, I had to show my registration and receive my VIP goody bag (more on that later). It was cool seeing how the sponsors had their own private suites set up for the ladies to come in and mingle. Here's what I got into:
I got me a free body massage and it came with full sized lotion products from Shea Moisture. LOVE THEM!
I met the owner of the JessiCurl products, Jessica McGuinty! She is so cool!! We're even friends of facebook lol.
I got to mingle with several natural hair community bloggers. They were in love with my hair. Many thought I really had super long locs, but no… alternatives. This is where the awesome hair conversations came into play.
Photos were being take everywhere. A photographer purposely kept pursuing me for some reason…lol. I ended up in the Organic Root Stimulator Curls Unleashed suite at Fro Fashion Week. Lots more compliments were given as well.
There plenty of demonstrations, photo-ops, and more! The real fun came at the Fro Fashion Week / JessiCurl Penthouse Party that same night!!! JessiCurl was celebrating their 10-year anniversary so it was a great occasion.
Fro Fashion Week 2012 – Penthouse Party!
It was definitely a fun night! Fro fashion Week was doing it big! I go there a little too early so the party didn't start jumping until after 10PM.
The penthouse was very elegant and spacious. they had a bar so you know I had to get fancy and get my wine and such. Every at the Fro Fashion Week period were all dressed very well. Some ladies wore dresses, others wore jeans and elegant tops, the guys were very GQ and some wee very GQ urban lol.
What did I wear? Well…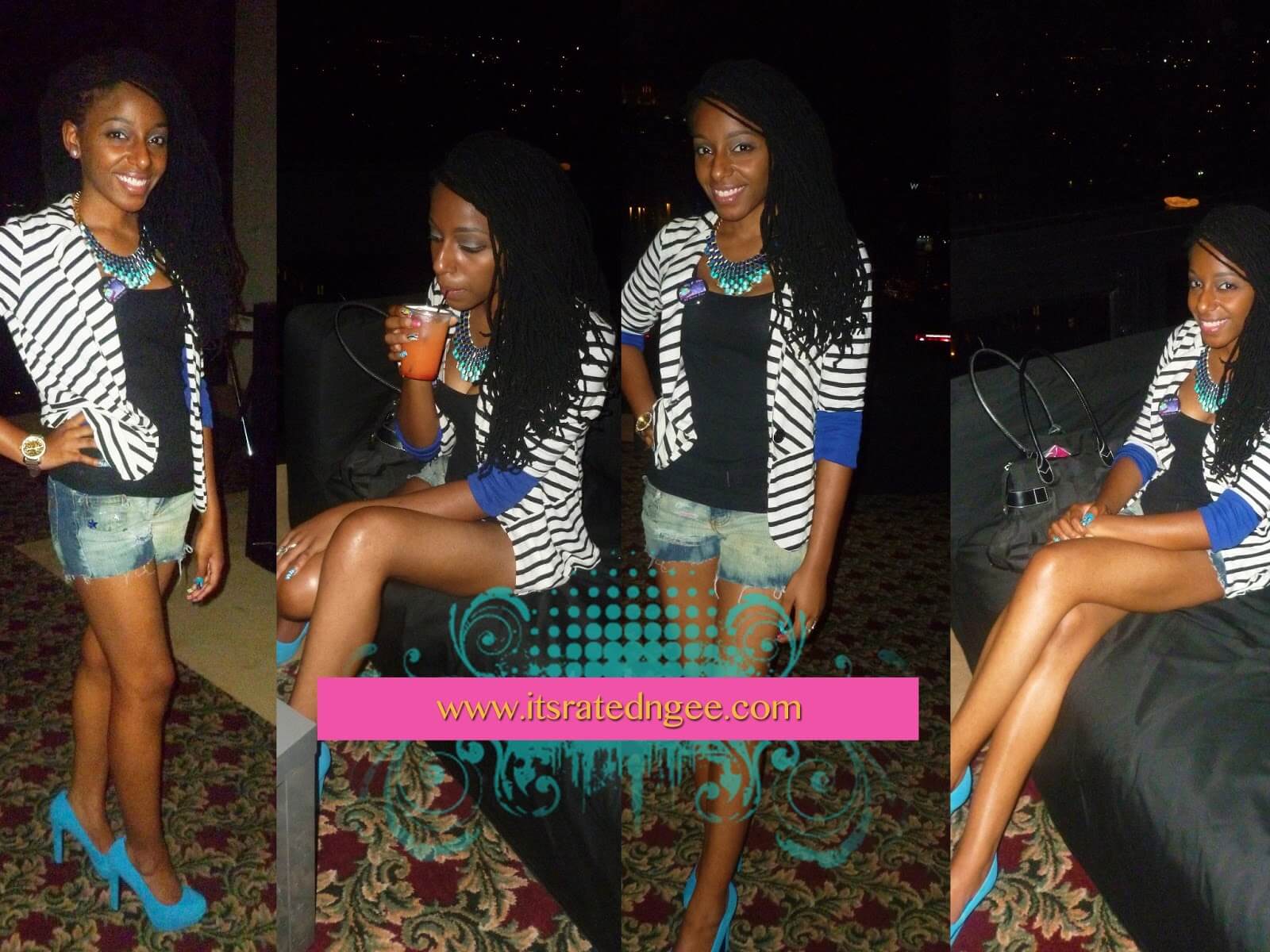 Outfit: Shoes (UrbanOG), Shorts (thifted DIY), Top (JC Penny), Jacket (Rue 21), Necklace (Envie Boutique)
Everybody had a great time. It came out nice. They had fresh food being served by hotel staff consistently, the drinks kept pooring at the bar, people were two-stepping and going ham on the dancefloor.. lol. Wonderful!
I was able to meet the woman behind Fro Fashion Week, Tarin Boone ofNaturally Me Media. Great woman! After a while, JessiCurl CEO, Jessica hit the stage for a few words and there was a giveaway of 10 whole size JessiCurl packs.
I missed out big time on that! Maybe next time lol.
Fro Fashion Week founder, Tarin, later got back on stage and the party started back jumping. Everyone hit the dance floor and started doing the bus stop and all. Good times indeed. I ended up leaving shortly thereafter. I had a very cool time!
The Fro Fashion Week Glitz and Glam fashion show was the very next evening. I missed that as well, thanks to one hell of a storm …booo!
Fro Fashion Week 2012 – Review
Overall, Fro Fashion Week was amazing! Yes, I will surely attend again. I'll more than likely be there for the February event. If you plan on attending Fro Fashion Week next year, check out the Fro Fashion Week website for more information. See you in March! …for more Fro Fashion Week photos, visit my Facebook Fanpage. (A Super LATE Fro Fashion Week video coming soon, stay tuned! lol)
Be sure to social share with your friends and follow me on Pinterest. Leave your comments if you like… 🙂