Yes, it's that time again. The time of year where you tend to "love" more than you should already be loving. As women, we often forget that not only is Valentine's Day a celebration of love, friendship, and commitment…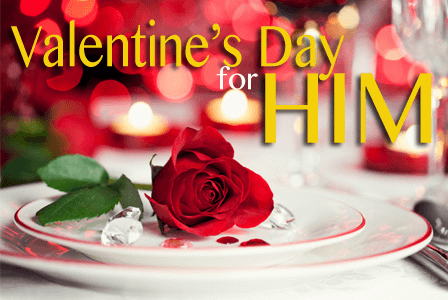 …but it's also a time for us to really show our men how much they mean to us as well. I know what some of you may be thinking.. " This should be my day. I do enough for him already. " " What do you do for a man on Valentine's anyway?"
Well, the men in our lives may be headaches, big kids sometimes, and may even piss us off more often than not. If your man tends to be sincere and romantic, especially for Valentine's Day, you owe it to yourself and your relationship to do something that will do A LOT more than "please" him. The male ego is a fragile one…
Like women, men need to know you care, that you are appreciative and that you love them. Just as daily compliments and sweet kisses make us feel feminine and pretty, there are similar things we can do for our men to help validate their masculinity. The things we say and do mean much more than they lend us to believe. Seldom do men admit to their specific emotional needs but, in many ways, they want the same things. Your man wants to feel loved; he wants to feel attractive; he wants to feel capable and needed." – MadameNoire.
He loves you, you two enjoy each other, and so forth. Add some fire to the gasoline and shock him with these very generous ideas to really cater to your man and give him the best Valentine's day ever!
A Woman's Guide
Turn It Up! I'm a lover of music. Especially ones by couples. You should check out Tamar & Vince – "You're My Monday & My Friday" single. It's fun and can really start the day off in a nice way.
The 50s Wife . Turn into a " domestic goddess " for the day. Yes, get super cute with it if you're going to cater to your man . If you can stand it, become the ideal "trophy wife". You know, the ones that tend to do as their told. Don't let that scare you off though… he's not going to dictate you. You should probably "get dolled up" and slip into something that'll tease his imagination a bit. NOTE: Save the lingerie for later, ladies . Hit the kitchen and start cooking an amazing breakfast for him. Make sure strawberries are on the menu. Yum & oh so delicious.
Do Not Disturb? Wait. What do you do with that food you just cooked? You bring breakfast in bed, of course. Nothing more satisfying than seeing your man wake up with a huge smile on his face in gratitude. Kick it up a notch by waking him up with kisses and feeding him. Studies show that men LOVE being catered to… especially if the love of his life is doing all the work for that special day. Go figure right?

Be Playful. Take this opportunity to soon after run his shower water. Make it fun. If you two are playful creatures, you just might "fool around" with each other and end up in steamy session of "morning shower fever"! Have fun. Get him dressed. Treat him like a king.
It's Me & You. Get creative. Make this day one he will forever cherish. Do what you wouldn't normally do. Better yet, do what he never expected you to do. If it's "game day", take him to the stadium. Create a set-up that reenacts the very first date you two had. Shower him with gifts of the toys he's been eyeing on like the a new luxury watch, latest video game, a visit to a celebrity custom suit tailor, a fancy box of the best Cuban cigars, etc. The manly stuff us ladies never seem to really understand…

Don't forget to cater to your man and be super flirtatious throughout the day. Be daredevils and live a little while you're in the heat of the moment and filled with excitement for each other. YOLO right?! lol

Pour It Up. So the day is slowly turning into night. I hope you're ready to really rev the engine up a bit. For my simple lovers, kick back with dinner and a movie. Go out to a bar and enjoy being lovey dovey. If you're anything like me and you love affection and really showing off how to cater to your man … get your man feeling good and comfortable. Massage his feet, his back, kiss him tons, give several I love yous, and more.

Prepare a delicious dinner fit for a king. Have a nice bottle of champagne or a glass of his favorite liqueur. A candlelit bath is always juicy on the menu. End the night in pure romance if you desire. Yes… this is also the perfect time to slip into " that outfit " that you bought previously that'll make him go wild…. cater to your man and make love, cuddle, or simply enjoy the rest of your evening with each other.

Turn Off The Lights. Play some good r&b music, enjoy some love story dvds, and love one another. Have a beautiful night.
FYI: Valentine's definitely shouldn't be the only day you do extra sweet things for your honey. The greatest relationships derive from the best friendships.
Share this post if you enjoyed it. What do you have planned for your man for Valentine's Day? Share your creative ideas below.