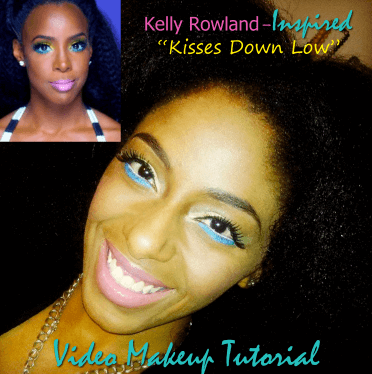 I am so in love with all the makeup looks seen in Kelly Rowland's, "Kisses Down Low" music video. She definitely had some fun playing around in color. As you can imagine makeup lovers and divas everywhere have been creating their own inspired-looks to compliment Kelly's. There have been a multitude of great (and not so great) looks based off the video.
I counted a total of 7 different facial styles expressed throughout the video… yes, I counted! I was super late watching the video but when I finally saw it, all I paid attention to were the makeup looks! So of course I had to do a tutorial sharing my skills as well! I must say, I really enjoyed playing "dress up" with my face.
It's always fun when it's never planned. FYI… the red hair look on Kelly really took me back to the Destiny Child days. Kelly has always been fun and adventurous with her hair.
"Kisses Down Low" Inspired Makeup Tutorial + Natural Hair Ironed Blow Out
My hair in this Kisses Down Low tutorial is a flat-ironed blow out. Yes, I just made that up. I did a little straightening to my hair and allowed nature to take over from there. As the day progressed, it turned out to be a flawless blow-out with so much body and movement! I'm feeling like Diana Ross! Absolutely loved how it turned out.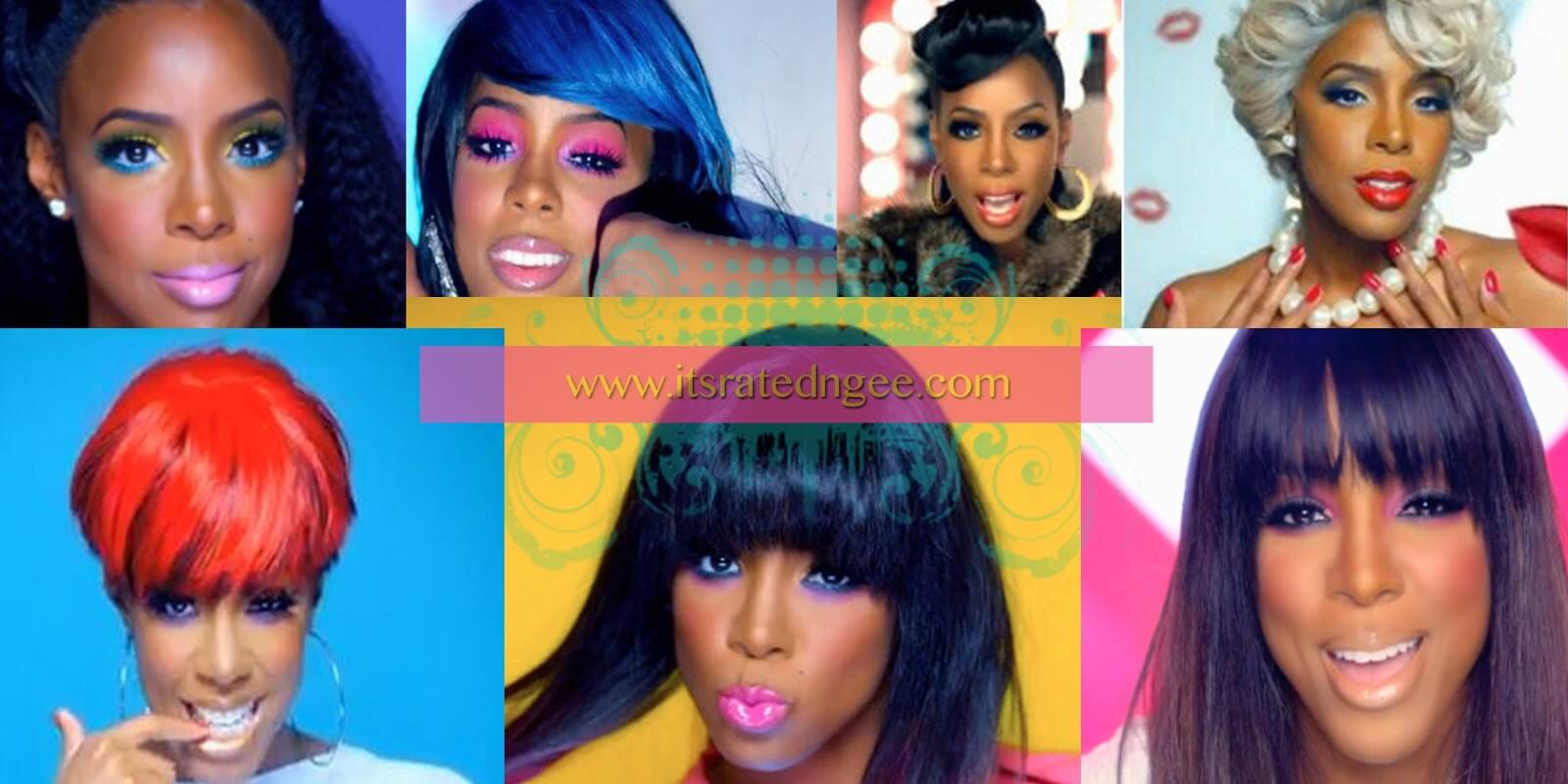 I wanted to create one of my favorites looks, the "Kelly Barbie", from the video. Pink lips and rainbow eyes! LOVED IT!! Don't worry ladies, I made sure to use products that are budget-friendly for any makeup lover. Mostly, ELF products. Since I only rocked this look for about 2 hours, I only used the less expensive products for the most part… beauty is pain lol.
Products Used
ELF Clutch Brow Fill
ELF Concealer in "Medium"
Eyeshadow Palettes Used: ELF Clutch, Coastal Scents GO "Sydney", ELF 24K Gold
ELF Eyelid Primer in "Shear"
Foundations: L'Oreal True Match in "C7 Nut Brown" + Revlon Nearly Naked in "280 Chestnut"
Lips: ELF "Flirtatious" Lipstick + "ELF Charming" Lipstick + ELF Gloss in "Flirt"
Lips (Small Additon) Covergirl "Q455 Powderpuff Pink" from Queen Collection
Essentials
Brushes: ELF + Coastal Scents
ELF Dramatic Lashes
Waterproof LashGrip Eyelash Adhesive
NK Auto Eyeliner in "AA04 White"
Rimmel London Exaggerate Lip Liner in "046 Ultimate" (Mocha Brown)
ELF Waterproof Mascara
Instructions
Prime your face. Most women simply add a BB creme, a moisturizing lotion, or face primer. I used a face moisturizer from Suave.
Fill in your brows with a color that is at least 2-3 shades darker than your skin tone or the color of your natural hair color. DO NOT EVER USE BLACK! (Unless you're some Couture runway model… lol)
Apply concealer on your brow bone, perfecting your eyebrow arch. Take the concealer and also apply to eyelids, under your eyes, down your nose (highlight can be used as well), and along your "T-Zone".
Blend, blend, blend!!
Begin to apply eyeshadow. Select your chosen "yellow" and apply to eyelid. Select a "green" (I used 3 shades of green) and apply to outer-V and crease of eyelids. Be sure to use a blending brush to lightly blend the two colors.
Take a white eyeliner pencil or creme and apply to lower lash line. Followed by a "royal blue" or "deep turquoise" eyeshadow and apply underneath lower lash line.
Smooth and clean up any fall out with a fan brush or kabuki.
Apply foundation to face (and lips-optional). (I used a mixture of two colors to match my skin tone).
LIPS: Apply your selected "bubblegum pink" lip color. (I created a color using 3 shades of pink lipstick.) Be sure to add gloss or lip shine.
Set your makeup with a spray or powder.