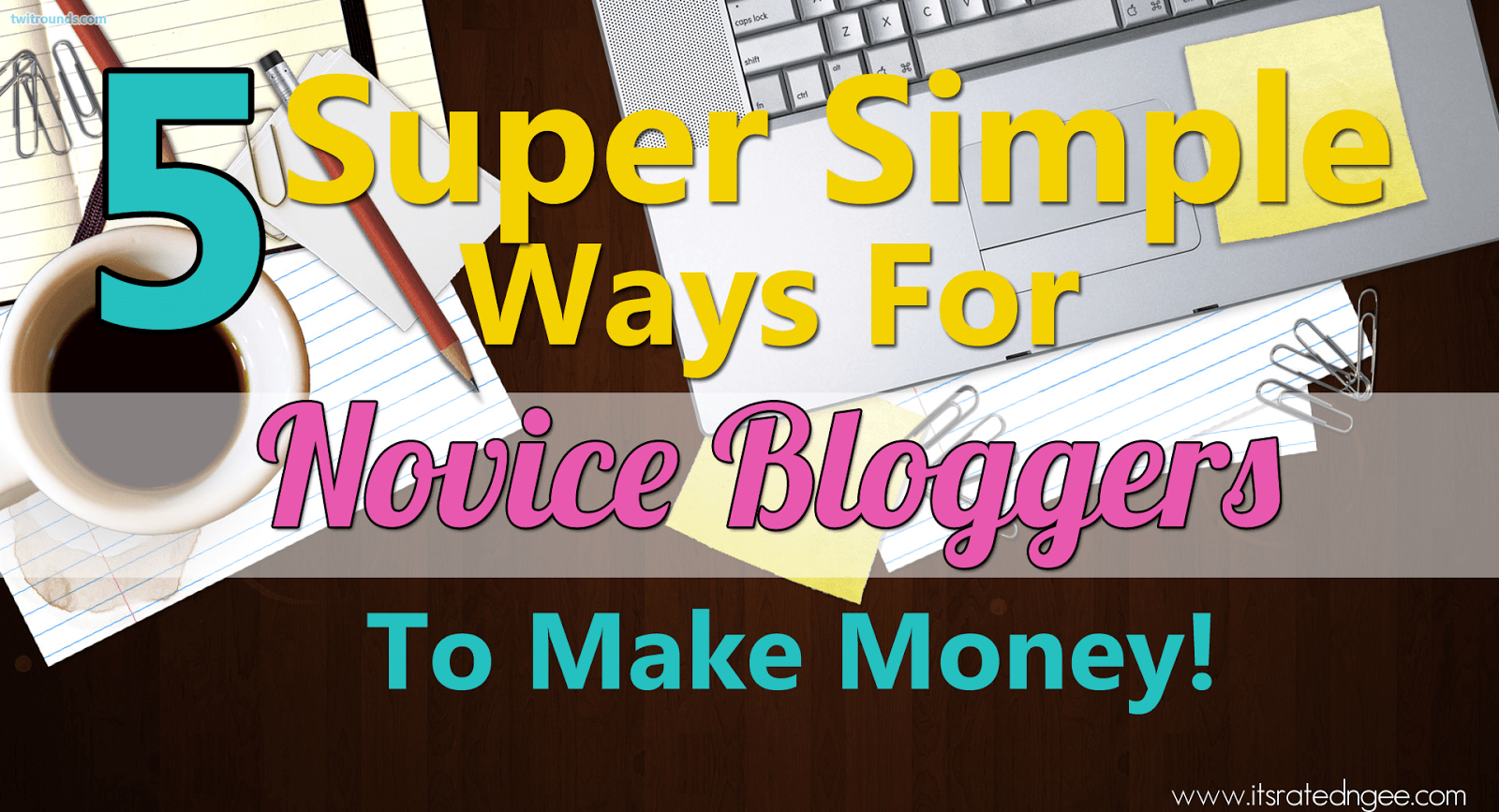 You may have seen an article like this before sharing ways you can actually make money blogging. Like many of you, what I read never really explained the "how" part. I'll share with you 5 ways that you can easily begin to generate blogging income. This isn't a post that will make you rich over night but if you desire to turn blogging into a full-time job, then it can certainly happen.
I've been blogging for, in total, a good 4 years. I have several different blogs that I write for. When I first started out, I had no clue what "monetizing a blog" meant. I simply blogged for pure enjoyment. When I began to get more serious about my blogging reputation, is when I began to really put my skills and expertise to the test. As a novice blogger, you don't have to have a gazillion followers to generate a decent blogging income. It takes planning and preparation. Here are 5 ways novice bloggers can make money from home:
Join A Blogging Network. Blogging networks are a GREAT way to connect with other bloggers and even earn income by writing sponsored posts. It's also great because they are writers just like you. You can cross promote with each other, gain new connections/readers, and lifelong followers. Many blogging networks have a forum where blogging opportunities are shared. This gives YOU the chance to show your stuff and gain more readership and blogging authority.

A few awesome blogging networks that I am apart of are Sits Girls and Clever Girls Collective. They give great information to help you become a better blogger and even connect you to companies seeking bloggers to help promote their products in exchange for monetary compensation and even free products!

Sverve Social Networking. If you're an avid reader of mines, you may recall me writing a blog post about Sverve: A Bloggers Social Networking Addiction. Sverve is a blog networking site that allows you to connect with brands, share your blog posts, and gain new readers. I've been a member for quite some time now and have enjoyed the perks! Sverve gives you a platform to highlight your blogging areas of expertise. Anything from tech blogs to travel.

One misconception of Sverve is that it's only for mom bloggers. That's far from the truth. There are men apart of this as well who reap the rewards of being a member as well. If you'd like to be apart of the community, join for free here. You may also request to become a Sverve affiliate once you are in.

Offer Advertising On Your Blog. This is great residual income if you're serious about earning a decent income from blogging. By residual, I mean recurring income. Check out my advertising for example. Of course, you may choose to charge a one-time fee for relevant content to be advertised on your blog but I prefer whatever works for both parties. Think like the major brands such as McDonald's. Allowing others to "rent space" on your blog helps both parties. You receive compensation you create and they receive more traffic to their sites and businesses.

Ever noticed a blog that focuses on beauty but they also have ads displayed that link to Mac Cosmetics deals or even the latest revolution in facial dermabrasion technology? That's advertising. It can even be referred to as affiliate advertising if working for a major brand. Many times, novice bloggers charge people who want to generate more traffic. If a small beauty company runs across your blog and wants to work with you, you become somewhat of an ambassador of their products because they pay you to display an ad that links back to their site from your blog. Make sense?

Join Affiliate Programs. Often times the word "affiliate" sends people running scared. Only because there are indeed many scams in the world. Be careful when choosing to become an affilate for companies that give no  direct contact information (i.e address, phone number, etc). For me, affiliate programs have been awesome! Many major companies and smaller brands offer these programs to gain more exposure. They pay people like you a certain percentage or 100% profit to send referrals their way.

I work with a few companies such as Partner With Paul, Amazon and freebie sites, which are pretty popular. Depending on the company, you can be paid anywhere from .50 cents to $50 or more per referral or sign up to that the company earns through you. If you have a very specialized niche, search out companies that fit with your blog and see if they offer an affiliate program. They're usually free to join and can even be joined through networks like Share-A Sale.

Sell Your Own Products. This is my favorite. If you have a special talent or skill in something, why not share it? Many bloggers create valuable content and products to sell through their blogs. There is NOTHING wrong with wanting to earn a living for yourself. We all want comfort. For many, most bloggers may offer a free ebook they wrote for you if you join their email list. Others may offer homemade products that you can easily purchase for use and enjoyment. Why not join the bandwagon?
This isn't limited to just certain niches. If you blog about lifestyle and beauty, you may be a makeup artist or someone who creates their own beauty products. SELL IT! If you're a tech-savvy person, you may have a course you offer teaching less tech-savvy persons how to use fancy tech gadgets, etc. The sky is never the limit. Use the gifts you were given and see where it takes you. I'm glad I did and so will you.
Did you enjoy this post? How will/are you monetizing your blog? Leave your comments below and don't forget to share this post with your friends!:)