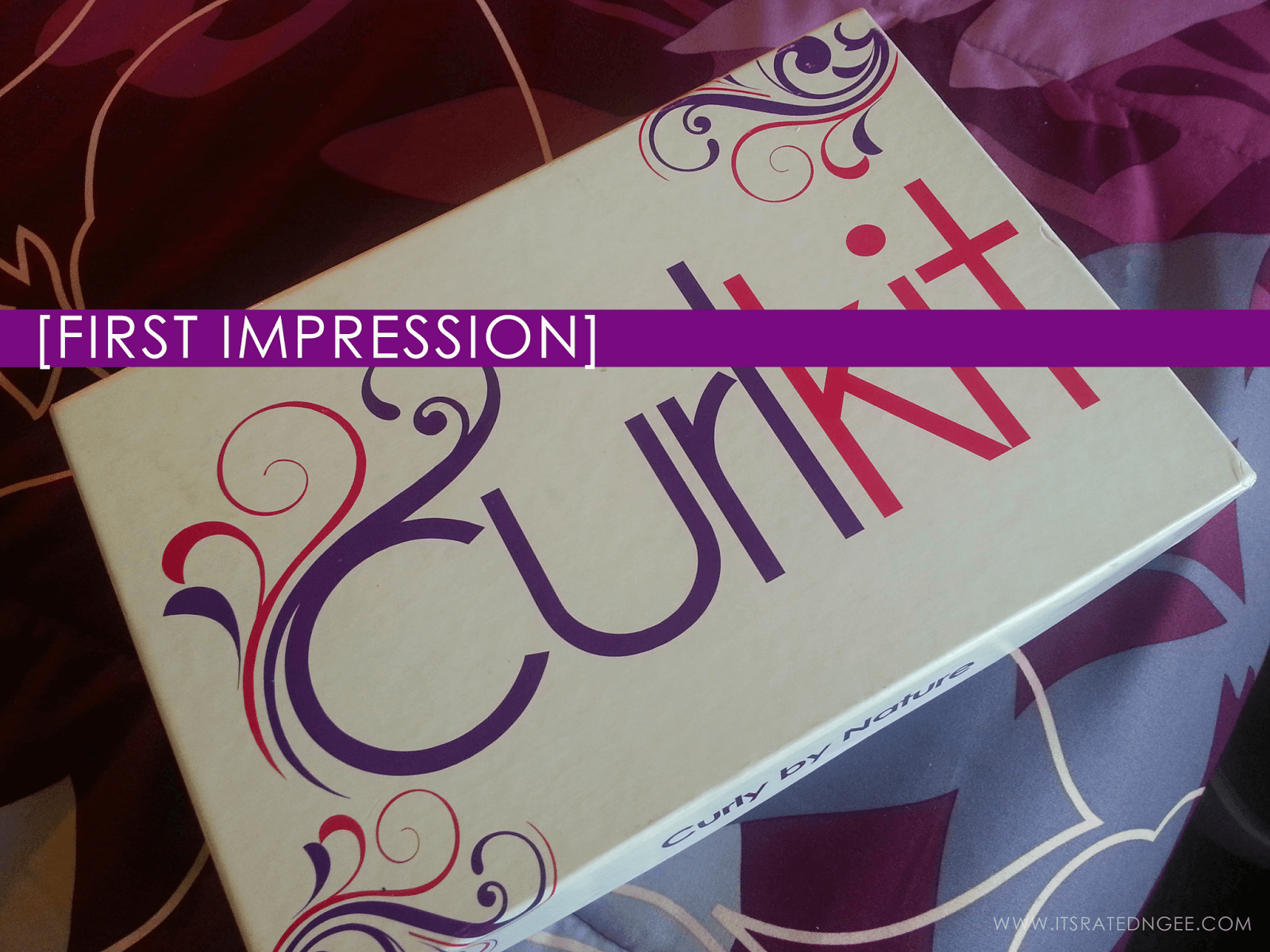 Sup, beautiful people. This product review is looong overdue however, I am so glad to FINALLY get to sharing. The wonderful folk over at CurlKit find me to be somewhat of an expert in natural hair and decided to surprise me with a box to review just for you hair lovers out there.
I do consider myself to be a serial product junkie, so having this box of goodies is surely feeding into my addiction. *le sigh*
Let's take a second to just admire the cute and fabulous packaging… love!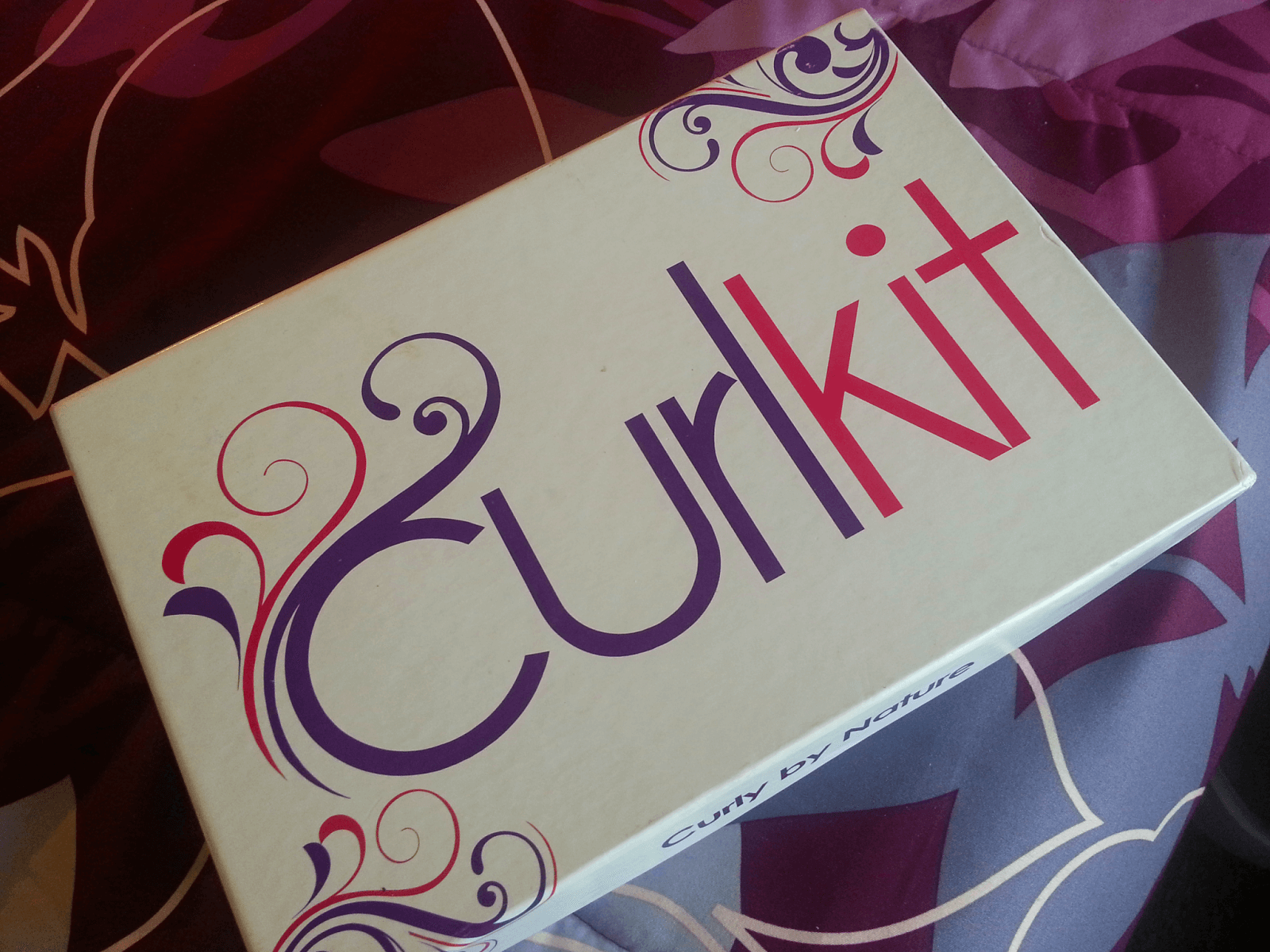 If you've somehow been a natural and have been living under a rock so you're not familiar with the CurlKit name, here's a bit if background info for you. CurlKit is a company based in New Jersey. Their mission is to eliminate the struggle of having to find the best natural hair products for women of color.
Each month, those subscribed to receive a CurlKit Box will get a selection of 6-9 samples that have been chosen and tried by those over at CurlKit. You'll get anything from hair tools to pomades from many well-known brands to upcoming name in hair care products.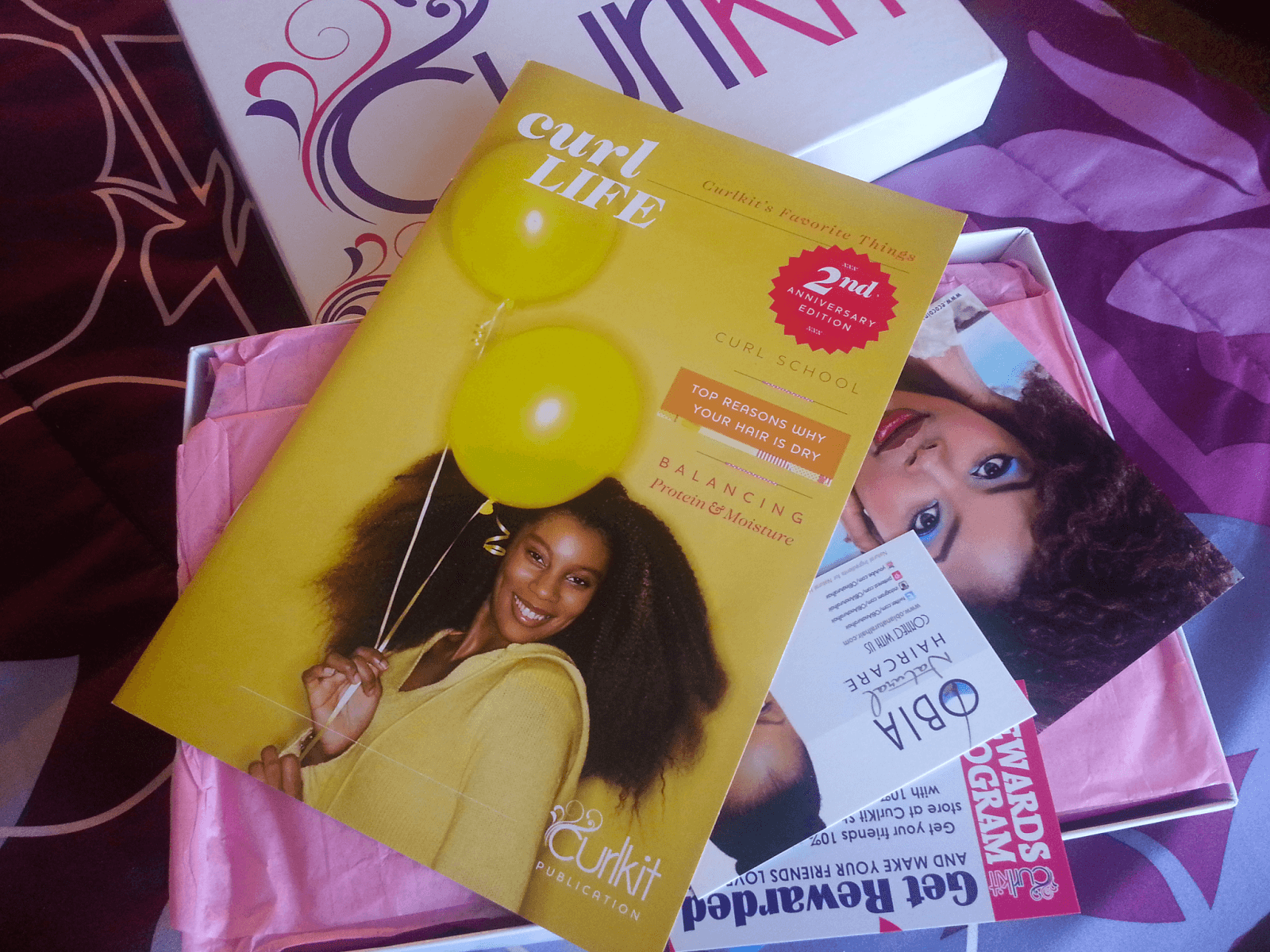 When you first receive your box and open it, you'll notice you have some reading material. This is mostly things you sort of keep on hand just in case… you know what I mean? Good stuff and advice worth taking notes from. You also have a few promotions or advertisements from other hair companies or product makers.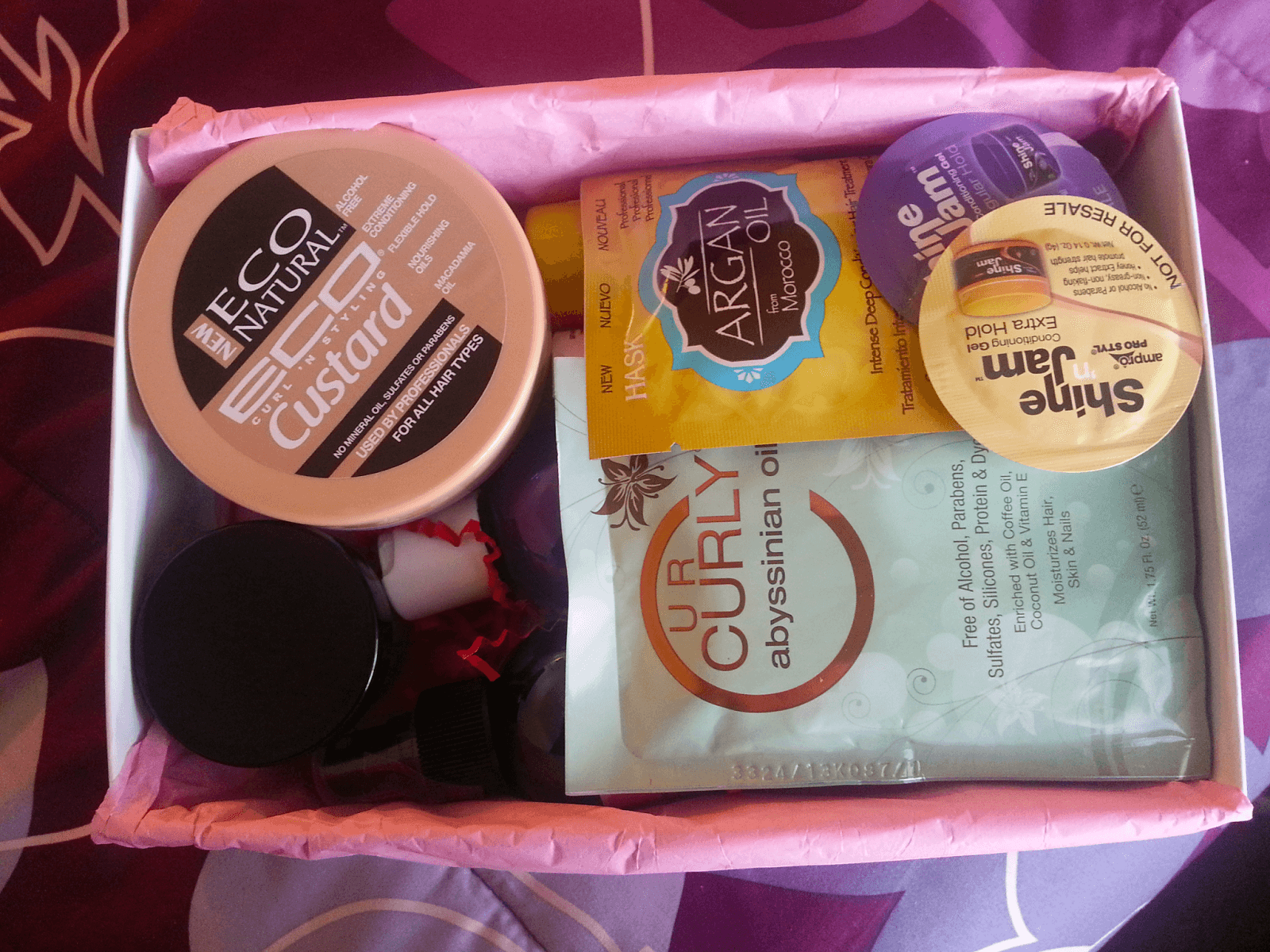 Yes, I'm a sucker for full-sized products. CurlKit definitely doesn't hold back. My box of goods came with (3) full sized products, (4) one-time use sizes, and (2) travel-sized products. That's decent enough for me. If you're interested in learning more about how these products work on my hair, stay tuned for future posts.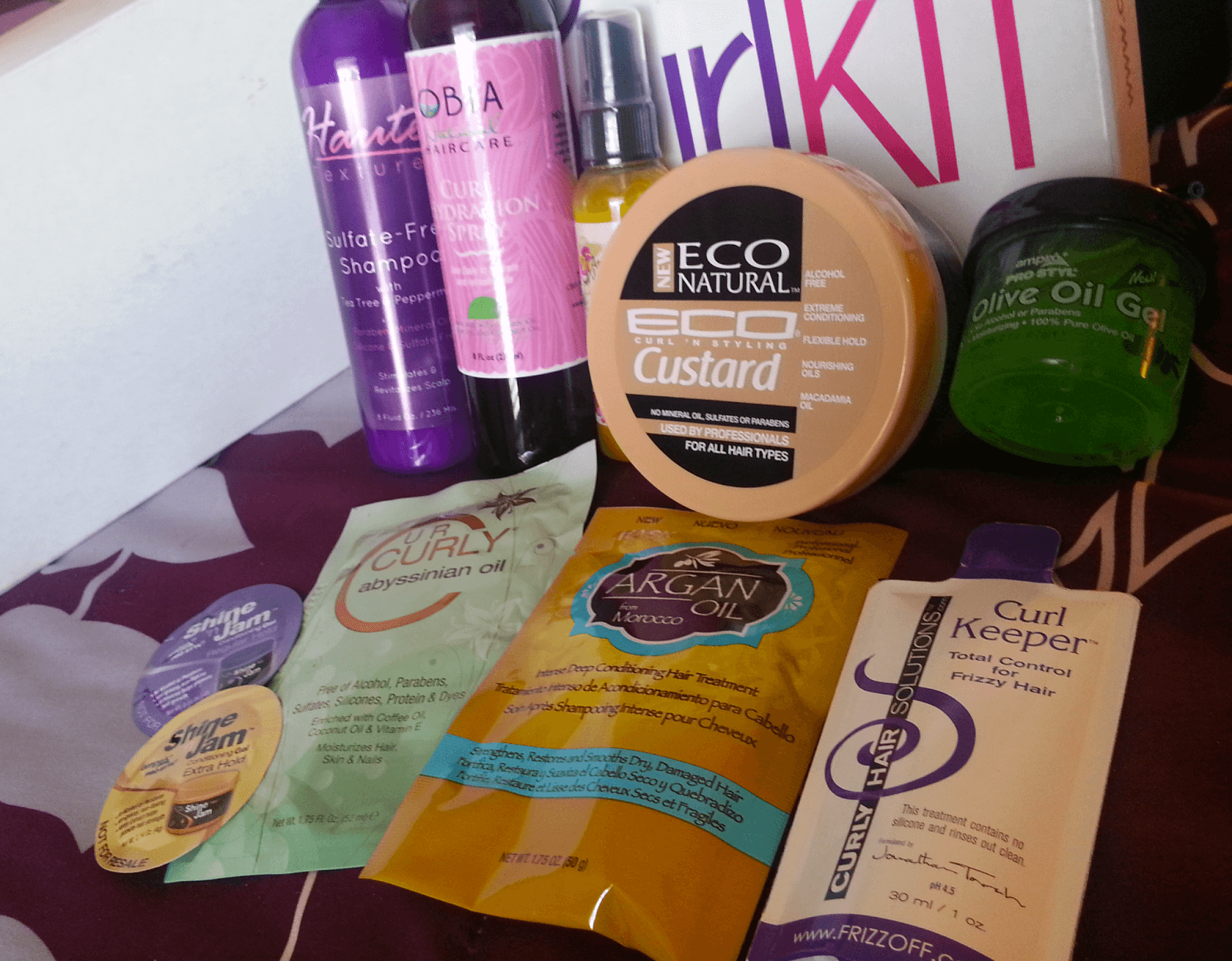 Products from left to right listed below, starting on top row.
Haute Textures Sulfate Free Shampoo w/ Tea Tree and Peppermint
Obia Natural Haircare Curl Hydration Spray
Alikay Naturals Lemongrass Leave-In Conditioner
Eco Natural Curl n' Style Custard
Ampro Pro Style Olive Oil Gel
(2) Ampro Pro Style Shine n' Jam Conditioning Gel- Sample Circles in Regular + Extra Hold
Ur Curly Abyssinian Oil Packet
Argan Oil Intense Deep Conditioning Hair Treatment Packet
Curly Hair Solutions Curl Keeper for Frizzy Hair
I'm most looking forward to trying out the shampoo, leave-in, and custard on my hair, which is color-treated. I miss my signature twist out style but once I'm done taking out these yarn wraps, do believe I will have a tutorial using these products coming your way.