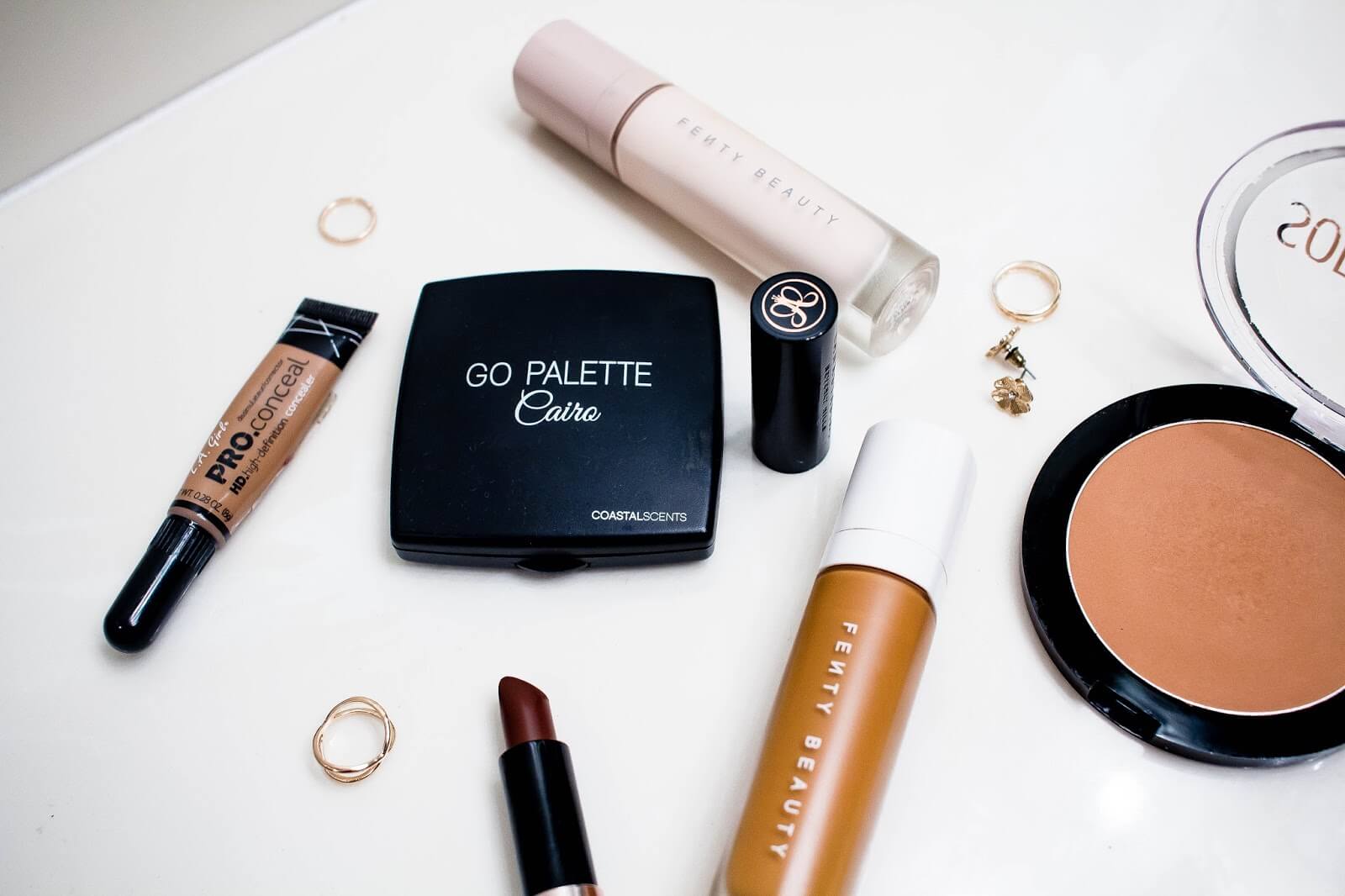 "Be a classy woman with a little bit of hood and a lot of universe in you." – Unknown
It's been a long time but I've been slowly making my way back to loving makeup. I use to own TONS of makeup just because… then I became a mom and my new look became au naturale over everything, no matter what. I would only wear makeup on occasions where I'd be at an event or wanting to dress up just to doll up – so "getting glam" wasn't a consistent thing for me.
BUT… BUT… when Rihanna announced a line of makeup with over 40 shades for all women, I figured I'd re-evaluate my beauty life. I hadn't been so excited to dive back into playing in new looks since my mom gave me my first dark lip color yearrrrsss ago. (It was a deep burgundy lipstick by Fashion Fair Cosmetics).
I've dabbled in a few moments of sharing a light slay in the past few months – all thanks to the makeup products that I run to whenever I want to dress my face up just a little bit. I like to keep it simple, usually always neutral, and slightly bold.
My weapons of beautification
Face: Fenty Beauty Pro Filt'r Primer + Foundation
Check it here.
I don't have to add to all the rave reviews about these two products do I? I will anyway. I LOVE them both! Before, I was using a BB Cream by Black Radiance as my foundation. It did the job but the Fenty foundation is doing the job and then some. The Pro Filt'r Instant Retouch Primer has a lovely smooth/silky texture to it and is super light.
The Fenty Pro Filt'r Foundation is literally a second skin for me. I use shade 400, but I could getaway with wearing 410 as well. Light, covers just enough to keep it naturally flawless, and stays put on me all day. I have "normal" skin.
Face: LA Girl HD Pro Concealer – GC984 Toffee
Check it here.
I use this mostly under my eyes and as a primer for my eyeshadow. Never had any issue with creasing and it keeps my eyeshadow put – so I like it. I may give the Fenty concealer a try in the future though just to see if I like it better or not.
Eyes: Coastal Scents GO Palette – Cairo
Check it here.
This has been my favorite palette for over 3 years now. I no longer hoard eyeshadow palettes filled with colorsI'd likely never use so when I narrowed down my makeup, I kept it simple. I love Egyptian colors so the mix of matte and metallic in this palette is just perfect. I can do a killer smokey eye with it too!
Lips: Anastasia Beverly Hills Matte Lipstick – Rust
This is my new favorite! I love a good deep lip color. It's perfect for Fall/Winter but I'll definitely be wearing this all year-round. It lasts all day and doesn't eave my lips feeling dry or cracked. I also wear a bold red lippie when I'm feeling fierce. I love and recommend Cherry Blossom by Coloured Raine Cosmetics.
Face: Black Radiance True Complexion Finishing Powder – Creamy Bronze
Check it here.
I don't always use a finishing powder but when I do, it's always this one. I've been enjoying it for a few years now and still going strong. It feels nice and gives a nice-looking "set" to my makeup.
What are some of your favorite products to use and why? Make sure to take a random day and do nothing but look fabulous doing it – that's my little tidbit of advance to you for some added self-care, fyi.