Do you love playing around with nail polish? I do. I'm a nail tech duh! Try this simple and easy, fall ready color. I was at work today and decided to experiment a bit. Dashed over to the nail color wall and grabbed the first color that grabbed me. "Out of this World" by Orly.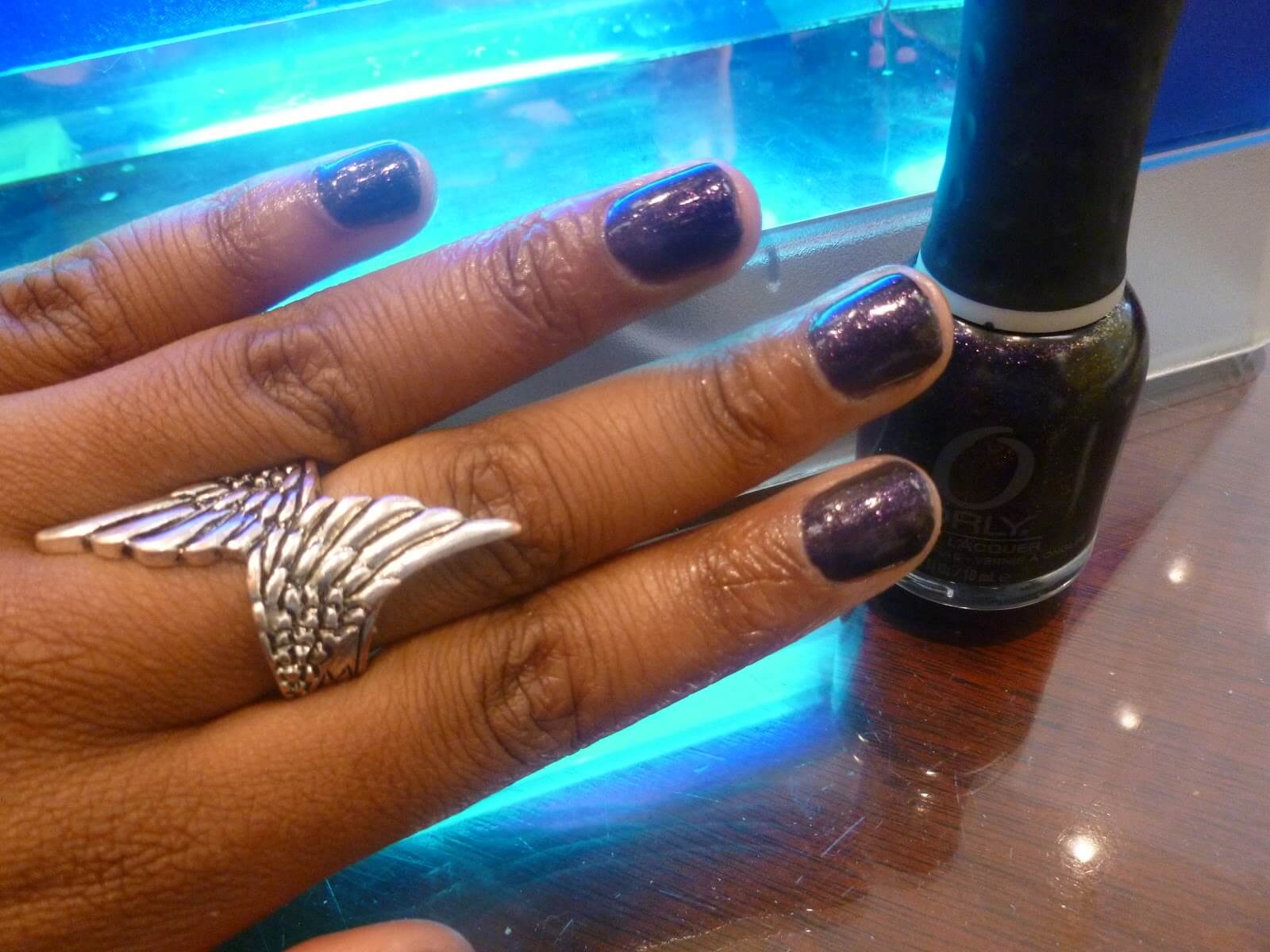 What Did I Do?
Step 1
Gather all your basic nail manicure supplies. I used a cuticle pusher, white block, nail primer, base coat, Orly color, Shellac gel top coat, and a UV lamp, and cuticle oil.
Step 2
Begin by cleaning your nails, filing (if needed), and pushing back your cuticles. Once that is done, apply your nail primer for a more gripping hold of your polish.
Step 3
Apply your base coat. It doesn't have to be anything fancy or laid on to perfection. One coat is definitely enough. If you choose, take your Orly color, roll it to even out color, and begin to lay on your first coat. Some people prefer doing two coats but with darker colors, why? I only applied one THIN coat of polish. Surprised?
Step 4
Allow the color to dry. If you're like me and enjoy a speedy process, you can spray on a quick dry sheen to speed up that horrid dry time. (One coat of polish didn't take long to dry for me. Two coats… well, you get what that does.)
Step 5
Yay! Top coat time! Take your Shellac gel top coat (or your preferred gel brand) and apply one thin layer on top of your color. To make sure your got an even cover over all your nails, try taking a small blob of top coat and layering it on you nails. Wipe off excess in the polish tube and go over your nails again, removing the excess polish on your nails.
*NOTE: Don't forget to seal the very free edge of your nails. It allows for a longer lasting manicure.*
Step 6
Cure. Whenever you're using a gel top coat, I'm sure you too, will use a UV lamp. I cured my nails for approximately 10 minutes. Five minutes per hand. The gel manufacturer instructions say 3 minutes but I'd rather be safe than sorry. After all, I wasn't doing a full gel manicure. I took the regular polish into consideration during my dry time.
Step 7
FINALLY!! After your nails have cured, take a thin cotton pad or dry wipe with 99% isopropyl alcohol on it. 'Enough to wipe off the sticky gel residue from your top coat.' TADA!! Now you have fall ready nails! lol 😀
ENJOY!!!!