A brief summary (TAKEN FROM BOOK): When literature student Anastasia Steele goes to interview young entrepreneur Christian Grey, she encounters a man who is beautiful, intimate, and intimidating. The unworldly, innocent Ana is startled to realize she wants this man and, despite his enigmatic reserve, finds she is desperate to get close to him. Unable to resist Ana's quiet beauty, wit, and independent spirit, Grey admits he wants her too… but on his own terms.
Shocked yet thrilled by Grey's singular erotic tastes, Ana hesitates. For all the trappings of success, his multinational businesses, his vast wealth, his loving family… Grey is a man tormented by demons and consumed by the need to control. When the couple embarks on a daring, passionately physical affair, Ana discovers Christian Grey's secrets and explores her own dark desires.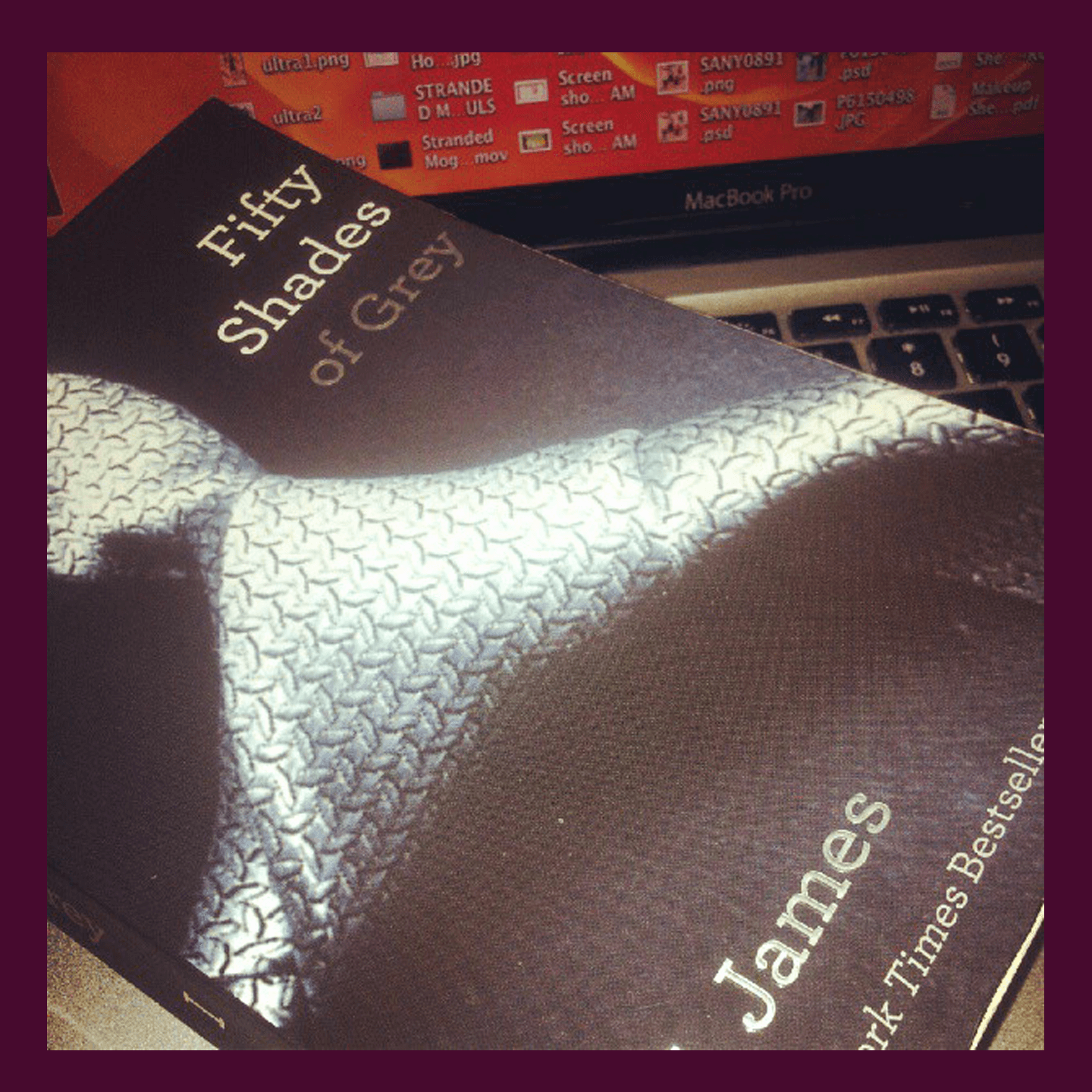 I must say, I first heard of this book not even one month ago. It was all over Twitter and in several news articles that I came across. I wanted to know what the fuss was all about. I did my own research and read a few reviews. Several people mentioned that this book was garbage because "those readers" worried too much about how it was written instead of how it entertains a reader. Unlike them, I actually enjoyed reading this. It was purchased, thanks to my wonderful better half. *hearts*
Fifty Shades of Grey by E. L. James is considered a mature read because it falls under the erotic romance category. Since this has its origins from the Twilight books, many Twilight fans might catch on to this. There are so many parallels between both books, which include:
Ana is Bella Swan, and Christian is Edward Cullen.
Like Edward, Christian is an extremely wealthy (makes more an hour than Oprah) professional stalker!
Christian is a control freak like Edward, of course.
Similar to Edward Cullen, Christian is described as being very "god like" and perfect in his figure and bone structure.
Ana is a caution sign like Bella. A serious klutz.
With an open mind, I was looking forward to get started. In the beginning, you receive your introductions like any other book. You learn to familiarize yourself with the characters. The story mostly takes place is Seattle and a little along the outskirts. Ana was put given as this 21 year old college senior (soon to be grad) who never had a "romance" or relationship with a man EVER. With her best friend Kate being sick and not being able to handle business, she is asked to go and interview 27 year-old billionaire entrepreneur, Mr. Grey for her. Ana had a couple of guy friends who had a thing for her but she pays no mind. After some embarrassment during Grey's interview, Ana becomes intrigued as does he. One thing leads to another and the fictional character known as Christian Grey soon becomes a man than I'm wanting to meet in real life just to say I FREAKIN' DID IT! lol. He has a serious effect on women. I never would have thought that this book would be so full of hot, steamy, sexual excerpts that literally turn people on! Wow. Grey puts a spell on Ana, mentally, and she finds herself wanting this man and all his split second emotions. Ever wanted to know or ever lost your virginity to a man that keeps your thighs at attention? Ana did. Little miss Ana was deflowered by him and she turned into a sexual fein whenever he looked at her or came "too close". It's funny when you actually read the book and know what I'm talking about. (Spoiling a bit may be possible below):
A few things about the writing in the book: There is a LOT of repetitional responses and reactions. lol. Let me put it this way, you can not read this entire book and not know what Christian Grey's signature style is, the color of his eyes, or why Ana always repeated the same things. Ana will say many times, "oh my" and holy shit", and so forth. It's quite hilarious to me.
A LOT of "foil packets" were used!
Ana has a very entertaining mind. She will often refer to her "subconscious" and "inner goddess". Her subconscious is like any woman's intuition. Her "inner goddess" is too funny. I laughed just about about everytime when Ana mentions what her "inner goddess was doing" lol!
A big issue Ana Steele has is thinking she can "bring him to the light" and save him from the demons he possesses by showing him love. All because Grey admits that he's "fifty shades of fucked up". I don't care what you say, a person does not have the power to change someone's character, especially if it's all they know and/are use to. That's something they have to want to do on their own. If not, it's like telling a brick wall to turn into sand before sunset.
I literally thought Grey was super psycho when he wanted Ana to be his submissive. He REALLY had her sign a contract before he showed her his "Red Room of Pain". Who does that? That was funny! After that a contract was drawn up that listed rules of what she is to do as his submissive, lol. It was too much for me to not laugh. What kind of rule is, and I quote, CONTRACT (Clause 15.2) "The Dominant accepts the Submissive as his, to own, to control, dominate, and discipline during the Term. The Dominant may use the Submissive's body at any time during the Allotted Times or any agreed additional times in any manner he deems fit, sexually or otherwise."
Oh and Grey was very blunt throughout his encounters with Ana. It kind of caught me off guard because his serious business-mogul demeanor didn't quite match up to his "secret dominating alter ego" to me, but then again he is a kinky son of a gun and a sex god in Ana's eyes. Funny stuff.
Do I recommend you read this book? YES! Do I think it's worth buying? YES! Was the above review my most honest review? YES! I love reading and it really doesn't take much to entertain me. Reading is quite fundamental. The author thought of an idea and went with it. I love it! Definitely check out the book. If you don't want to purchase the paperback versions, I have the ebook trilogy available if you're interested! I've already started reading Part two of the trilogy, Fifty Shades Darker! 😀
Have you read it or all three? Tell me what your opinions below!