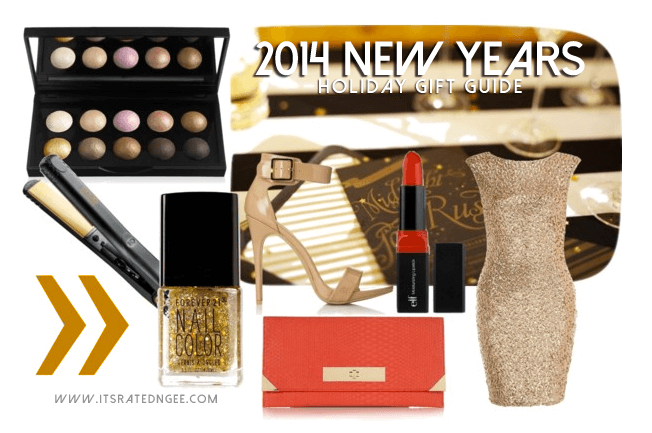 HAPPY NEW YEAR EVERYONE!!! I'm so excited for what this year will bring, remove, and improve. I hope you are as well. I wanted to do something just a little different from the typical "holiday gift guide" tradition. Why not share a few cool things to get your fabulous loved ones a boost to end their first week of 2014 on the good foot?
Enjoy these products that will make any woman smile and appreciate you even more! Let's start with a few of my favorite items from that lovely photo you see above. These are items that I either own or have used many times before.
ELF Baked Eyeshadow Palette- This baby is wonderful! It comes in four "chic city sets" that you can purchase here directly. I did a winter haul that features my palette purchase in "NYC" but you'll be seeing that and other goods later in another post. What's even better? Aside from 10 beautiful colors and awesome pigmentation in each set, these palettes are only $10!
Andis 1″ Ceramic Plate Flat Iron- For all my fun naturals and ladies you love who admire a change in hair from time to time. Perfect for ethnic hair needing a tool that straightens to perfection if you ask me. When used properly, it smoothes the hair well enough to give that desired salon styled look. I adore it! You can find it here for under $18!
LAQA & CO. Nail Polish via Rickys NYC- This is a pretty nice color for chicks. Simple but still subtle pink or lavendar for any given day or season. Ricky's was kind enough to send me a few items to indulge in and this polish in color "Legit" is my favorite. Check out my nails as of now. Nice mix of color right? The gold is festive, eh?

ELF Moisturizing Lipstick – When was the last time you bought a $3 lipstick that was both of good pigment and lusciously creamy? I purchased two red tones from ELF here to share during my winter haul. The one shown above in the photo collage is "Red Carpet". I also purchased "Velvet Rope". They go on super smooth and last a good while. Check it out!
Super cute and worth sharing
Now for items I just figured were super cute and worth sharing.
Classic Stiletto Sandals – You can find these babies at Forever21 for under $30. You may recall my Fall shoe haul from August where I purchased similar pairs of this shoe in both Nude and Black for $25.
Boogie Nights Nail Polish- Available at Forever21. Nothing says happy new year quit like silver, gold, and lots of glitter. F21 has a NICE one for under $3. If you want a little more, GoldeEye happens to be one of my personal favorites from OPI!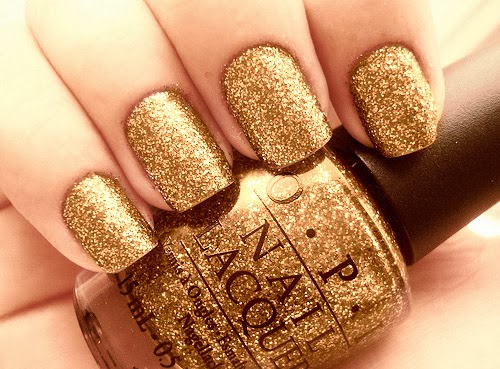 I hope this guide helps. If you really want to spice your wardrobe or someone else's' throw in a sexy bodycon dress with a stylish clutch to top off a full outfit. Have a fabulous and prosperous 2014!!!!